Online Borrower Card – NEW!
Get limited access to the Library's databases and downloadable resources for 90 days with an Online Borrower Card. For unlimited access to all of the Library's resources, please come to the Library to have this card replaced with a free library card. By obtaining a physical library card you accept responsibility for any fees for lost or damaged materials.
---
NOTE: After clicking on the above button, click on "Create Account" on the top right corner to get started.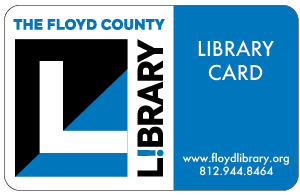 How to Get a Library Card
We welcome anyone to use our facilities. However, in order to borrow material from the library, a user must present a valid Floyd County Library card.
Bring your completed application and approved forms of ID to the Customer Service Desk to get a library card. Parents or legal guardians must sign the application for children under 16 and show approved ID.
 Eligibility for Library Cards
The following people are eligible for free library cards:
Floyd county residents

Non-resident Floyd county property owners with property tax receipt
Reciprocal borrowers from Clark and Harrison counties
Floyd County employees
Two forms of ID are needed to obtain a card:
One photo ID and one piece of postmarked mail addressed to adult applicant
Floyd County Employees
For Floyd County employment applicants, any form of employment identification (paystub, ID badge, letter of employment, etc.) is a valid form of identification for a Library Card
Non-Resident Cards
Indiana residents who live outside Floyd county and who do not own property within the county limits, do not pay taxes to support the library. Therefore, a fee must be charged for library services. We offer several options to give non-residents borrowing privileges. Non-residents may purchase a New Albany-Floyd County Public Library card for a yearly fee of $45 for and individual card with approved identification.