New Albany Central Library is open for visits, computer use, and browsing on the Upper Level only. Updated hours: Monday – Thursday: 9 AM – 8 PM. Friday & Saturday: 9 AM – 5 PM. Masks are encouraged.
Carnegie Center for Art & History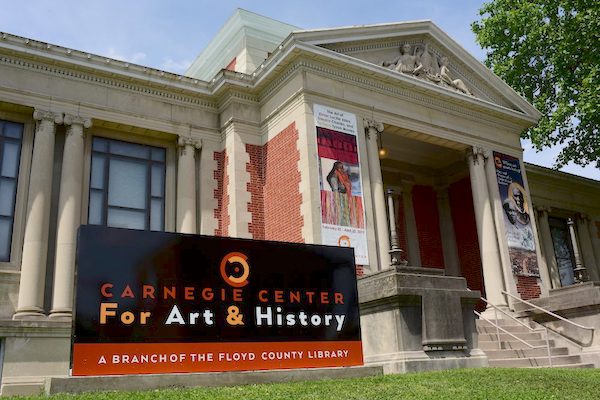 Hours
Monday – Saturday: 10 AM – 5 PM
The Carnegie Center for Art and History, a branch of the Floyd County Public Library, serves as a cultural resource for the education and enjoyment of the citizens of Floyd County and the surrounding metro area. To fulfill that mission we collect, preserve, and interpret the history and heritage of Floyd County; promote an appreciation of and participation in the visual arts; and preserve the historic Carnegie Library building in which the museum is housed.
The Carnegie Center is open to the public with limited access to gallery spaces to provide safe social distancing in accordance with CDC recommendations and Floyd County Library policies. In anticipation of your visit, please be aware that masks will be required, and social distancing enforced.
New Albany Central
180 West Spring Street
New Albany, IN 47150
(812) 944-8464
Open for Computer Use, Holds Pick-Up, and Upper Level Browsing
Monday – Thursday: 9 AM – 8 PM
Friday & Saturday: 9 AM – 5 PM
Curbside Service Hours
Monday – Thursday: 9 AM – Dusk
Friday & Saturday: 9 AM – 5 PM
Carnegie Center for Art & History
201 East Spring Street
New Albany, IN 47150
(812) 944-7336
Hours
Monday – Saturday: 10 AM – 5 PM
Galena Digital Library
6954 Hwy 150
Floyds Knobs, IN 47119
(812) 949-3060
Hours
Monday – Saturday: 10 AM – 5 PM
Curbside Service Hours
Monday – Saturday: 10 AM – 5 PM