Carnegie Center for Art & History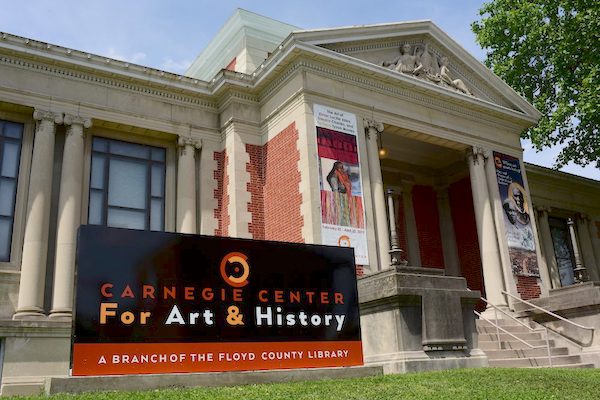 Hours
Monday – Friday: 10 AM – 5:30 PM
Saturday: 10 AM – 2 PM
The Carnegie Center for Art and History, a branch of the Floyd County Public Library, serves as a cultural resource for the education and enjoyment of the citizens of Floyd County and the surrounding metro area. To fulfill that mission we collect, preserve, and interpret the history and heritage of Floyd County; promote an appreciation of and participation in the visual arts; and preserve the historic Carnegie Library building in which the museum is housed.
The Carnegie Center is open to the public with limited access to gallery spaces to provide safe social distancing in accordance with CDC recommendations and Floyd County Library policies. In anticipation of your visit, please be aware that masks will be required, and social distancing enforced.
Upcoming Exhibit:
2020 Form, Not Function: Quilt Art at the Carnegie
August 15th – October 31st
Since its founding in 2004, this exhibition has become one of the premiere exhibitions of contemporary art quilts in the nation. This year, 19 art quilts were selected from 265 quilts submitted by over 110 artists from across the United States.
Is anyone else obsessed with the new Netflix show Indian Matchmaker? I love getting to know the couples and the clever, gentle humor that pokes fun at some of the ultra picky requirements of the match candidates. Watching the show puts me in the mood to read romance novels by authors of Indian and Pakistani descent. If you're in the [...]
Kids in grades K-5 join us for Stories Alive! from Drama by George on August 21 at 10:30 AM.  George's Stories Alive! program is a fresh approach to traditional storytelling in which a wide range of stories will be brought to life in a high-energy, interactive program.  This compelling, dramatic program is a perfect educational opportunity for homeschool students or [...]
What Can We Help You With?
Locations
New Albany Central
180 West Spring Street
New Albany, IN 47150
(812) 944-8464
Open for Computer Use and Holds Pick-Up
Monday – Friday: 10 AM – 5:30 PM
Saturday: 10 AM – 2 PM
Curbside Service Hours
Monday – Friday: 10 AM – 5:30 PM
Saturday: 10 AM – 2 PM
Carnegie Center for Art & History
201 East Spring Street
New Albany, IN 47150
(812) 944-7336
Hours
Monday – Friday: 10 AM – 5:30 PM
Saturday: 10 AM – 2 PM
Galena Digital Library
6954 Hwy 150
Floyds Knobs, IN 47119
(812) 949-3060
Hours
Temporarily Closed
Curbside Service Hours
Monday – Friday: 10 AM – 1 PM, 2 PM – 5:30 PM
Saturday: 10 AM – 2 PM