If you're looking for a super charming, cozy but not TOO cozy story set in a picturesque small town, pick up Evvie Drake.
Evvie Drake Starts Over by Linda Holmes (2019; 304 pages).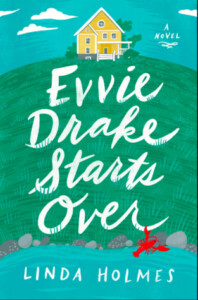 Evvie was leaving her husband. She had packed bags, she had a plan of where she would go, she was loading up the car… when her phone rang. It was the hospital where her husband worked. She almost didn't pick up the call, but decided that if he was coming home early she wanted to know, so she answered. It wasn't her husband. It was a nurse at the hospital. Evvie's husband had just been in a serious car accident, could she get there right away?
By the time Evvie got to the hospital, her husband had passed away. No one, not even her best friend, knew that Evvie hadn't been happy in her marriage, that her husband was not nice to her, that she was leaving him. And now her entire town is mourning the loss of a beloved town doctor, while Evvie stays silent, feeling guilty for not feeling sadder, not knowing what to do next.
When Evvie's best friend suggests that she might rent out the apartment in back of her house, he introduces her to Dean. Dean is a major league baseball pitcher with a case of the "yips". One day he could pitch and the next day he couldn't. Eager to escape the pressures and media of New York City, Dean's looking for a place where no one knows him, where he can rest and recuperate and figure out what to do next. When Evvie agrees to rent to him, they make a deal: they will not talk about baseball. They will not talk about Evvie's husband. But as they get to know each other and maybe see each other as friends, this deal feels harder and harder to keep.
This book is so super charming. From the lovably flawed characters to the scenic small-town-Maine setting (which is just right for beating the Indiana summer heat), this book had me at hello. The first chapter opens with Evvie's predicament as she's leaving her husband and gets the call that he's dying. From the get-go I had to know what would happen next, what would Evvie do. And then I absolutely fell in love with her small town and the idiosyncratic characters doing their small-town things. As Evvie and Dean get to know each other and start to become friends, I felt that their relationship was building very naturally. Neither of them are perfect, but I was rooting for both of them all the way through.
We've got a long holds list for this one right now, but don't forget to visit us and check for a Lucky Duck copy!
Readalikes:
Pick up this book if you like: