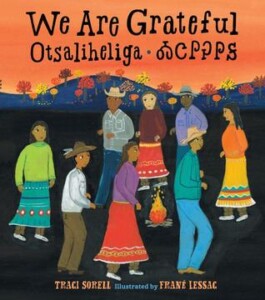 November is a time that Americans take a step back and look at all we are thankful for. We Are Grateful: Otsaliheliga by Traci Sorell (Cherokee) and illustrated by Frane Lessac is a wonderful book to share with children to reflect on all that we are thankful for and to celebrate Native American History Month. It starts out with this passage:
"Cherokee people say otsaliheliga to express gratitude. It is a reminder to celebrate our blessings and reflect on struggles – daily, throughout the year, and across the seasons."
This is a beautiful picture book that goes through the seasons of a modern Cherokee community, showing celebrations and traditions throughout the year. Each season begins with saying otsaliheliga for the things we are thankful for. In each section, readers learn about Cherokee traditions such as weaving baskets, grandmother revealing a new baby's Cherokee name, playing cane flutes, and more. It shows a contemporary community keeping traditions alive. Each section also touches on special foods that the Cherokee share.
This book is a wonderful way to start many conversations with children in your family. It invites readers to learn about Cherokee traditions, foods, and communities, but also to reflect on their own community's traditions. Don't miss it!
— Abby Johnson, Collection Development Leader