Do your kids love funny books? I've written before about Laugh Out Loud funny picture books for kids, but here are some suggestions for chapter books and middle grade novels that will have your readers giggling – no fooling!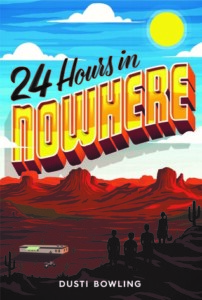 24 Hours in Nowhere by Dusti Bowling (2018; 260 pages). When the terrible bullies of Nowhere, Arizona try to get 13-year-old Gus to eat a cactus, Rossi Scott comes to his rescue… and trades her prized dirt bike for Gus's freedom. To buy back the bike, Gus has to go on a literal treasure hunt joined by two of his friends and Rossi herself. But they get more than they bargained for when they get stuck in the abandoned mine and have to find their way out. Hand this one to fans of Holes by Louis Sachar or anyone who likes a snarky, sarcastic narrator.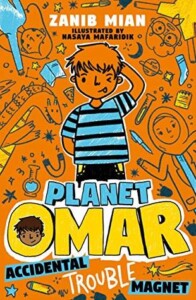 Accidental Trouble Magnet by Zanib Mian (2020; 205 pages). When Omar's parents decide to move house, it means Omar's starting a new school and making friends is not very easy, especially when he attracts the school bully's attention right away. Fans of Diary of a Wimpy Kid who like books with cartoon illustrations should try this one – it's so funny, it'll make all the snot come out of your nose!
It Ain't So Awful, Falafel by Firoozeh Dumas (2016; 378 pages). Cindy, who immigrated to the US from Iran in 1978, just wants to be like the American kids in her class. But even with a new American name, it's not easy to hide all the Iranian stuff that makes her different from her classmates. Her mother, not speaking English, thinks that Nasty is a great nickname for her name Nastaram. Her parents are the ones that give out boxes of raisins on Halloween because "American kids eat too much junk". And then suddenly Iran is in the news all the time and Cindy's American life becomes just awful. This book is a great choice for readers who like a mix of laugh-out-loud humor and more serious topics.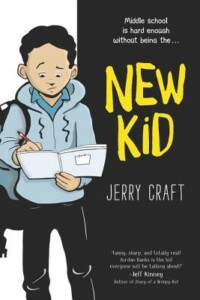 New Kid by Jerry Craft (2019; 249 pages). Seventh grader Jordan Banks loves to draw and make cartoons – they help him figure out how he feels about stuff that's going on in his life. And they're funny, too. When Jordan starts a new school, an elite academy that's mostly white, he has a lot of stuff that he needs to draw about. Readers who love Big Nate or Diary of a Wimpy Kid should check out this graphic novel and the sequel Class Act.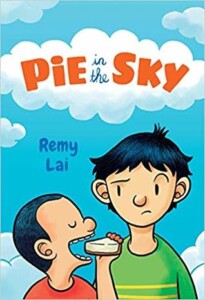 Pie in the Sky by Remy Lai (2019; 380 pages). Jingwen feels like he's just landed on Mars when his plane touches down in Australia. There's only one English word he's really mastered – BOOGER – because his annoying little brother is a giant booger. The only thing that gets Jingwen through the day is what his brother calls CAKE TIME! After school, Jingwen bakes a cake from his late father's recipes. The problem? The boys are NOT ALLOWED to use the oven when they're home alone. Can they keep cake time a secret? And will life in a new country ever get easier? This is another book that's a prose/graphic hybrid and it will appeal to Wimpy Kid fans who like a little more meat to their stories.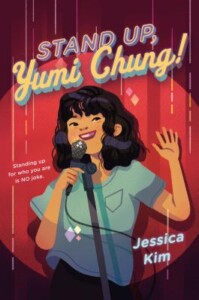 Stand Up, Yumi Chung by Jessica Kim (2020; 320 pages). Yumi Chung dreams of being a comedian, but that is not at all what her Korean immigrant parents have in mind for her. When she stumbled across a comedy camp meeting in her neighborhood and a girl with an Asian last name has not shown up for the first day, Yumi finds herself pretending to be "Kay" and taking her spot in the camp. Not only does she have to protect her secret identity, but she has to make sure her parents do not find out. AND she has to find the courage to take the stage and perform.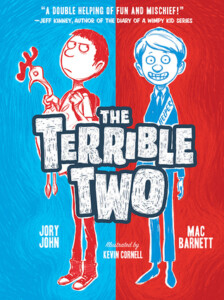 The Terrible Two by Mac Barnett and Jory John (2015; 219 pages). Miles is the best prankster at his school. It's what he's known for. So when his family moves to a new town, Miles knows he's going to have to pull some awesome pranks. But when Miles gets to school on the first day and sees that someone has parked the principal's car on top of the steps, right in front of the school doors, he knows that there's already a prankster at this school. And so starts a prank war so epic that the kids at Yawnee Valley may still be talking about it.