I am not a huge romance reader, so this year I've embarked on a quest to add more romance into my reading diet. I know we have tons of romance readers at our library, and I want to be able to serve you knowledgeably. I have found some GREAT books so far and I think I'm well on my way to becoming a romance reader! I tend to enjoy romance stories with well-developed characters and diversity. Here are some of my favorites so far, and I welcome any suggestions you have for me! What are YOUR favorite romance novels, authors, or series?
A Bollywood Affair (Bollywood #1) by Sonali Dev (2014; 291 pages). Also available on downloadable e-book via Overdrive and downloadable audiobook via Hoopla. Mili was married at the age of 4 as was custom in her village, but her husband never came for her. Samir is on a mission to save his brother from the child marriage their grandfather said he annulled but didn't. But when Samir and Mili meet, an accident brings them together and Samir, feeling guilty, stays to make sure she's all right. They begin to get to know each other and are soon inseparable, although each is keeping secrets from the other. This is a sweet romance featuring Indian characters in America. I listened to the audiobook and really enjoyed getting to know Mili and Samir.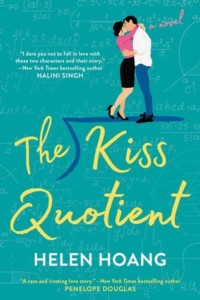 The Kiss Quotient by Helen Hoang (2018; 317 pages). Also available on audiobook CD, Playaway audiobook, downloadable e-book via Overdrive, and downloadable audiobook via Hoopla. When Stella, a woman with autism, starts feeling pressure from her mom to have a relationship (and maybe marriage and babies?), she decides to approach her relationship problem the same way she'd approach a problem at work. She hires an escort to teach her how to be better at sex. Of course the escort she ends up with is dreamy and smart and they click. But this is just a financial and educational arrangement, right? This steamy, multicultural read features great characters and a modern plotline that's off the beaten path.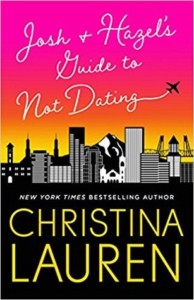 Josh & Hazel's Guide to Not Dating by Christina Lauren (2018; 309 pages). Also available on downloadable e-book via Overdrive. Hazel is a wacky girl who is sometimes Too Much and she knows it. Josh has known Hazel since college when she threw up on his shoes at a party. Both of them have always known they were totally wrong for each other. But when they reconnect after Josh has a terrible breakup, they become friends and start setting each up on blind dates. Josh and Hazel might be dating, but they know they'll NEVER date each other… right? This is a really fun romantic comedy with a bit of steam and really memorable characters that you'll be rooting for the whole way through.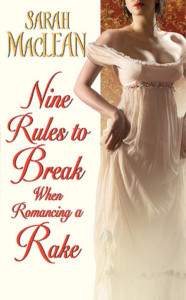 Nine Rules to Break When Romancing a Rake (Love by the Numbers #1) by Sarah MacLean (2010; 422 pages). Also available on downloadable e-book via Overdrive and downloadable audiobook via Hoopla.   Having entered the "spinster years" of her late 20s, Lady Calpurnia has all but given up on marriage. When her little sister happily announces her engagement, Callie starts to wonder what her impeccable reputation is doing for her if she's never going to be married. So, at her brother's urging, Callie starts a list of activities she would do if she was not worried about her reputation. Activities that a lady would NEVER do. Things like shooting a gun, drinking whiskey, and fencing. And then Callie starts to check activities off the list. I loved this historical romance with a believeable feminist slant to it. Callie is a heroine with a lot of gumption who's learning to seize the day and live the life she really wants.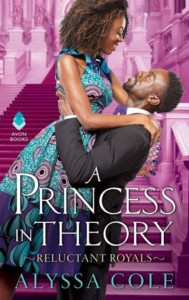 A Princess in Theory (Reluctant Royals #1) by Alyssa Cole (2018; 373 pages). Available on downloadable e-book via Overdrive and downloadable audiobook via Hoopla. When Naledi starts getting emails claiming that she's betrothed to the prince of an African country, she's sure she's getting scammed. Meanwhile, Prince Thabiso is trying to track down the woman he's been betrothed to since they were children since his parents are insisting that he marry soon. I really enjoyed this modern romance with a strong, STEM-focused female lead. It's an enjoyable romp that includes epidemiology and a private plane, so yes, please.
What should I add to my to-read list for my Romance Project? I'd love to know your favorites!
— Abby Johnson, Collection Development Leader