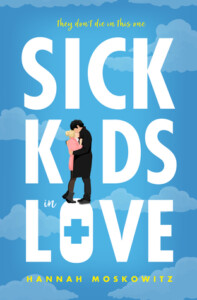 I recently read this sweet teen romance, Sick Kids in Love by Hannah Moskowitz (find it here in print or here on downloadable e-book via Overdrive) and it's perfect for fans of The Fault in Our Stars by John Green (though it's less sad!) or Five Feet Apart by Rachael Lippincott.
Isabel doesn't date. It's a rule she made for herself after her mother left. It's safer not to date, it's easier not to date, and she doesn't think anyone would really be able to get her and be patient with her and take care of her since she's living with a really painful chronic illness – rheumatoid arthritis. But then, at the hospital where she's getting an infusion, she meets a boy. A sick boy. A boy who understands what it's like to live with a chronic illness. A boy who likes her. And suddenly Isabel finds herself rewriting all her rules.
This is a really sweet, fun love story that's a good pick for middle schoolers or high schoolers who enjoy romance or for adults who like teen romance. I've heard from some adult readers that they prefer YA romance because it's generally pretty gentle with regards to physical romance and this one fits that bill. It's definitely not a tearjerker and it tells you right on the cover "they don't die in this one".  Not only is this a good pick for teen romance fans, it's an own-voices story with great disability representation. The author lives with a chronic illness, she she writes from experience. In fact,  that's one of the themes that I really appreciated about this story – its discussion of chronic pain and the levels of pain we expect others (notably women and girls) to live with and the pain we expect ourselves to live with and when it's okay to ask for or accept help.