With the series finale last week of HBO's hit show Game of Thrones, many of you may be wondering what your next move is. Where else will you get vast landscapes full of political intrigue, strange creatures, and mysterious magic? Your local library, of course! What follows is a list of my recommendations to tick that box. Click any of the images to place a hold on the item. Many of these titles are also available as audiobooks or on OverDrive.
The Classic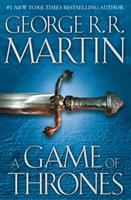 This might be a bit obvious, but if you haven't read the books that started it all, you really should. Although the show and books begin very similarly– with Ned Stark and his kids and their pet direwolves receiving a visit from King Robert and his Queen, Cersei Lannister– by the second season/book things start to diverge. The real kicker: although there are five books in the series (as books it is called A Song of Ice and Fire, with only the first volume called A Game of Thrones) it is not completed, meaning it's possible for you to have watched the whole show and still not know how the books end!
The Visual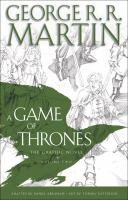 If thousands of pages of dense narrative-switching isn't your preferred deal, skip the novels and head to the graphic adaptation. It tells the same story, but in an illustrated format that may be more enjoyable for some readers. I hesitate to call it a comic book because the material covered is far from comic, but that's the style here, one that's been rising in popularity with adults for the last few years. There are also several other GRRM-authored graphic novels in the library's collection, many of them set in the same world as A Song of Ice and Fire.
The Extras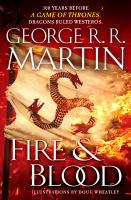 Although he hasn't finished the main series yet, George R. R. Martin has been writing and publishing other works, mostly collections of short stories about the ancestors of the Targaryens, Starks, Lannisters et al. There are HBO prequel series in the works based on these books. The one I've linked here, Fire & Blood, is a history of the ruling Targaryen family in the centuries before A Game of Thrones. Events that have taken on legendary status by the time of Ned Stark are described here in full detail.
The Nonfiction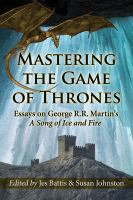 Game of Thrones fans are no strangers to thinking deeply about the show. In this collection of scholarly essays, people involved in production of the show write about the languages invented for the show, their approaches to depicting religion, sex, and magic in Westeros. If you're aching to get into the nitty gritty details of creation– if you're the sort of fan who keeps watching the episodes until the showrunners discuss the making of the episode, or someone who watches featurettes interviewing the costume designers– this  could be a way to wrestle your mind to bed after that finale.
The Seven-Book Epic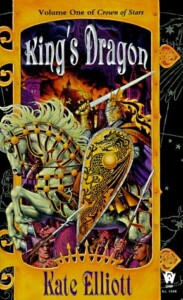 Kate Elliott's seven-book high fantasy tale of inheritance and kings (sound familiar?) had its first book published in 1997, one year after the publication of A Game of Thrones. Unlike Martin, who's kept fans waiting, however, Elliott completed her Nebula Award-winning series in 2006. Like A Song of Ice and Fire, the Crown of Stars series has shifting narrative perspectives, telling the story of war-torn Wendar. The king's eldest child, Sanglant, is a prince and soldier of great renown, but because he's illegitimate, he can't inherit the throne. Liath, an orphaned teenager with mysterious powers, and Alain, a young boy who receives divine visions, are also main characters, although in typical fantasy fashion it isn't immediately apparent how they're connected. Despite the engaging worldbuilding, compelling characters, intriguing storylines and obvious appeal as the closest readalike I've ever seen for Game of Thrones, these books can be hard to find, and our library only owns part of the series. Happily, the other books can be found through our inter-library loan system, SRCS, which I've linked in the image above. (One note: the dragon in this title is not literal, so manage your expectations.)
The Standalone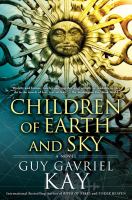 If a seven-book series is just too big a commitment after nearly a decade of watching Game of Thrones, don't worry! There are options for you, too. Although Guy Gavriel Kay's books have never been accused of being short, and many are set in the same alternate world, each stands alone, with its own plot and characters. Children of Earth and Sky, published in 2016, follows multiple characters living on the border of two empires: a warrior seeking revenge for the deaths of her family, an artist, a spy, a soldier in training, and the son of a merchant. Kay's writing is very detailed yet not overwhelming, an important quality in a lengthy tome like this one.
The Unfinished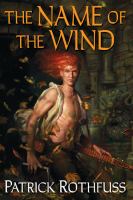 Or, maybe your real problem with the show is that it's over! If you enjoy the anticipation aspect of George R. R. Martin's novels most of all– and why wouldn't you, if you like having something to look forward to– there's another as-yet-incomplete fantasy story for you to check out. Smart and funny, The Name of the Wind follows Kvothe, a young man who begins life with a troupe of actors and ends up a semi-mythical figure known as The Kingkiller. Intended as a trilogy, this has only two books for now, giving you half as much to catch up on and half as much to wait for.
Happy reading, and valar morghulis.