February is Black History Month, a time I like to highlight Black voices. Many time this means activists, inventors, and civil rights leaders doing important work, but Black history isn't solely the struggle. Black lives also contain joy, and it's in the pursuit of that joy and in honor of Valentine's Day, our most romantic cultural holiday, that I bring you a booklist to cozy up with and keep out the cold this weekend.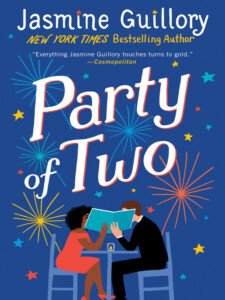 When I think of contemporary romance, I think of Jasmine Guillory, and her growing popularity over the last few years suggests that at least a few of you think of her too. Her most recent release, Party of Two, is the only one available as of the time of this writing. It follows Olivia, the sister of Alexa from The Wedding Date, and though there are some sweet Easter eggs for those who've read the earlier books, it can be read as a standalone. Olivia Monroe has moved to LA to start her own law firm, and by chance meets an attractive white man– who turns out to be a Senator. Max is smart, funny, and kind, but dating in the national spotlight is challenging. Will their new relationship survive to bring them lifelong happiness? Read to find out, in print or on OverDrive.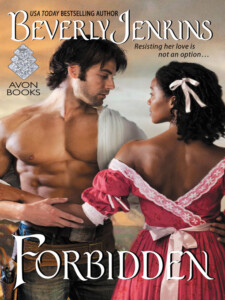 Confession: I am not a regular romance reader. That makes it a little silly for me to be blogging about romance, I know! But I'm telling you so you'll know what it means when I say that Beverly Jenkins wrote the first romance novel that I enjoyed without reservation. She's a real pro who has been writing romance since 1994. She writes in both the historical and contemporary genres, but I particularly enjoyed her Old West series, of which Forbidden is the first. It details the romance between Eddy, a headstrong and beautiful Black woman, and Rhine, a man whose ambition has led to him passing for white. To take a shot at love with Eddy would mean giving up everything he's worked for– but it just might be worth it. Available in print, large print, on OverDrive, and on hoopla as a book and an audiobook.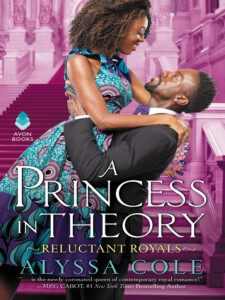 One of the soapiest, most wonderful tropes in romance fiction is royalty falling in love with commoners. It's a classic fairy tale scenario that has exploded in popularity since the real-life relationship between Prince Harry and Meghan Markle. Alyssa Cole's Reluctant Royals series takes on that concept with fictional African countries rather than the fictional European ones you may be familiar with from movies like A Christmas Prince. Later books in the series even feature queer romances! The first is A Princess in Theory, in which graduate student Naledi discovers to her shock that she is betrothed to a prince. Will the marriage go forward? Are her dreams compatible with being a princess? Can duty and love go together? You can read it in print, large print, on OverDrive, and on hoopla as a book and an audiobook.
That's it for me. I hope you pick up these fantastic books and fall in love with them as the characters fall in love with each other.