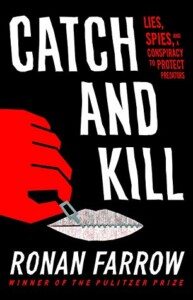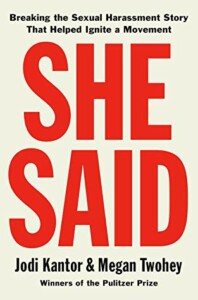 The 2018 Pulitzer Prize for Public Service Journalism was awarded jointly to the publications The New York Times and The New Yorker, for reporting on the Harvey Weinstein sexual misconduct allegations. Jodi Kantor and Megan Twohey, who wrote the winning work for the New York Times, published a book on the story, She Said, on September 10, 2019; Ronan Farrow, who wrote for The New Yorker, also had a book, Catch and Kill, published a few weeks later on October 15. Both books have a hold list, but because we also have a copy of each in our Lucky Duck collection, I was able to take both home recently to read back-to-back.
I was a little worried that these two books would overlap enough to make it unnecessary or even boring to read both. However, I needn't have worried; these writers all won Pulitzer Prizes for this work for a reason. Both books outline the allegations against Weinstein and the witnesses each reporter spoke with in an attempt to uncover the truth of the story, but each is also about the ways in which the reporter's life itself intertwined with the work. In She Said, several pages are given to Megan Twohey's previous work on sexual misconduct stories that failed to inspire trust from the American public, and how that affected her willingness to get involved in another story of the same magnitude. Catch and Kill devotes much of its focus to Ronan Farrow's experience of being tracked and losing his job due to his unwillingness to give up this story, even when it was inconvenient for his superiors at NBC, where he was working at the time.
These are both immensely entertaining and informative books by people doing an important job on a subject of great importance in our society. She Said is available as a downloadable ebook here and in large print here; Catch and Kill currently has the same accessibility options, with an ebook here and large print here. Because audiobook publishing often lags behind print releases, there are no listening options yet, but I wouldn't be surprised for both to get audiobook versions in the coming months.