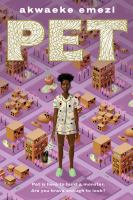 People can be monsters. But not in Jam's world; a post-revolution society where there are no more monstrous people. In Jam's town of Lucille, especially, the Angels (the good and righteous) fought hard to make sure that children like Jam, who is trans and African American, and her best friend Redemption could grow up safely. Is evil truly gone, or has everyone simply stopped believing in it? With the help of Pet, a creature summoned by Jam through her mother's painting, Jam, Redemption and their families learn many lessons, most of all, not wanting something to be true doesn't make it so.
I loved this book for many reasons. On the surface, this was a thought-provoking story, teaching its readers, both younger and older, many lessons: acceptance, patience, advocacy, love, honesty…I could go on. I think the reason I love this book most, was that I know there are going to be children out there that need this book; maybe even some adults. There are lots of compelling topics addressed in this book, and if I have learned anything as a librarian, it's that representation matters. Jam, who also has selective mutism,  is the quiet hero you cheer for throughout the book. It is completely understandable that Kirkus Reviews would say that this book,  ' shoots for the stars and explodes the sky with its bold brilliance.'
If you are interested in checking out Pet by Akwaeke Emezi, you have lots of options. Place a hold for the physical copy by going online to our catalog here. If you'd rather read the ebook, you can check that out here on Overdrive.