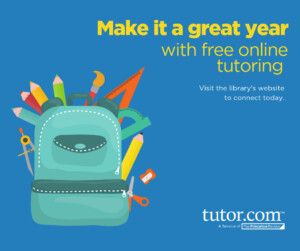 New at the library: tutor.com! Need homework help? Having trouble understanding when doing virtual learning? Now your library is providing free online tutoring with tutor.com. All you need is a library card (and you can sign up for one online!) and your PIN (last four digits of your phone number) to get started.
Here are some cool things about tutor.com:
You can save your favorite tutors so you can connect with them again if you find one you like
You can drop off papers for review and they'll get back to you within 12 hours
You can drop off resumes and cover letters for review and get free career coaching
You can get test prep help for the SAT, ACT, AP exams, GRE, and more
Live tutoring is available every day from 3pm-10pm and there are video classes and test prep materials available on demand.
This is a new service that we've added and we can use your help in spreading the word! If you know families who need help with homework, job seekers, or test preppers, please let them know about tutor.com. Let us know if you have any questions about how to get started!