A great co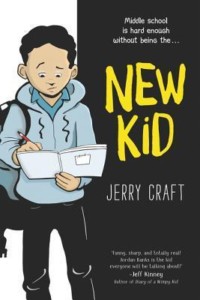 ntemporary graphic novel for fans of Smile. 
Jordan Banks loves art and would give anything to go to the art school of his dreams, but his parents think the key to his success will be attending an elite private school on scholarship. Not only is Jordan the new kid, but he's the new kid who looks different from almost everybody at his nearly all-white school. In addition to figuring out where to sit in the cafeteria and which sport to join, Jordan also has to deal with (mostly unintentional) microaggressions from both students and teachers who aren't used to interacting with kids of different races and social classes. But Jordan tries to find ways to laugh at it by drawing funny scenes in his sketchbook. Students facing similar situations to Jordan's will see themselves represented and students who maybe haven't ever thought about what it would be like to be different will have their eyes opened. And both groups of kids will be laughing all the while.
New Kid is the story-of-a-kid-dealing-with-middle-school-while-feeling-different-than-everyone-else of Smile by Raina Telgemeier meets the funny-everyday-adventures-of-an-average-kid-just-tying-to-get-by of Diary of a Wimpy Kid. I think fans of both will enjoy New Kid.
New Kid by Jerry Craft (2019; 249 pages).
Readalikes:
Pick up New Kid for fans of:
— Abby Johnson, Collection Development Leader