Here at The Floyd County Library, our Local Author Week 2020 (November 16-20) will soon be underway, so we wanted to introduce you to our amazing local authors!  Here you can read a little bit about them, the books they've written, and where you might be able to purchase their books for yourself.  Books available to check out from our library are also linked to our catalog!
Don't forget about our virtual author panels on Zoom.  Our panel for authors of books for adults was Tuesday, November 17 at 3 PM (click here to watch the recording), and our panel for authors of books for children was Thursday, November 19 at 3 PM (click here to watch the recording).  The authors discussed the process of writing their books and getting them published.  Thank you to all for participating!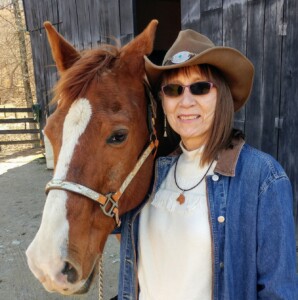 Janet Alexander
Janet, now a retired science teacher and horsehair jewelry braider, moved to New Albany with her husband, Jim, and two cats in 1997. Since then the couple has acquired more fur babies, including the horse that Janet rides on the trails of Deam Lake and the Clark State Forest.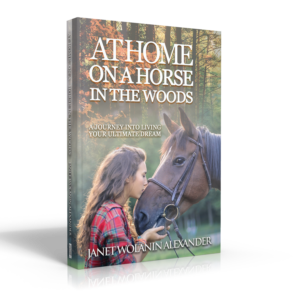 At Home on a Horse in the Woods: A Journey into Living Your Ultimate Dream by Janet Wolanin Alexander (2017), 135 pages.
Young Janet is born in a big city with the big dream of meeting real horses and someday owning one of her own. As she grows up, Janet tries but never succeeds for long. Finally, in middle-age when she's about to give her dream up forever, a minister tells Janet something so powerful that her dream quickly comes true in ways she never imagined.
Get inspired to make your own dream come true! Learn the true story of how Janet went from watching horses on television to trail riding on the trails of Deam Lake and the Clark State Forest.
Learn more about Janet and her book here.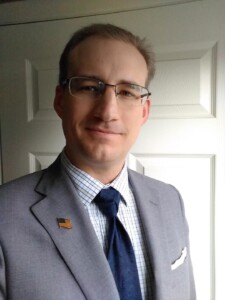 Donald K. Chapman
Donald K. Chapman was raised in Colorado and educated at the University of Evansville where he earned a Bachelor of Fine Arts degree in Creative Writing. He met his wife, Megan, a Jeffersonville native, at Harlaxton College in England. They have relocated to New Albany and are raising their four kids. His novel, "The Blood and the Life," can be found at booklocker.com and Amazon. Connect with him on Facebook at https://www.facebook.com/DonaldKChapman.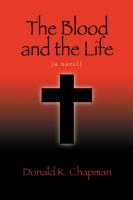 The Blood and the Life: A Novel by Donald K. Chapman (2012), 338 pages.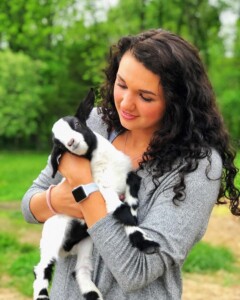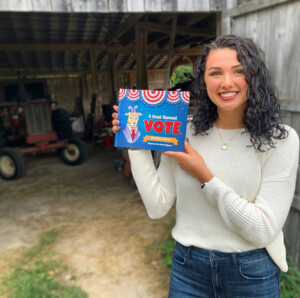 Gwyn Jones
Gwyn Jones was raised on a tiny farm in a tiny town in Southern Indiana, an experience that shaped her. It all started with a gift of a pygmy goat from her grandpa. Before she knew it, she had more than 100 goats and was learning about caring for farm animals, especially goats.
When she was not playing volleyball, she spent a lot of time working on the farm with her brother and dad, and they often had discussions about current events. This book intertwines those experiences.
Gwyn left the farm to attend Auburn University on a volleyball scholarship. She majored in marketing. After three years, she earned her bachelor of science in marketing and graduated with honors. During her time at Auburn, she was a three-year starter and two-time captain. Upon graduation, she enrolled at Marquette University on an athletic scholarship and earned her master's in corporate communication, while starting for the top-20 Marquette volleyball team.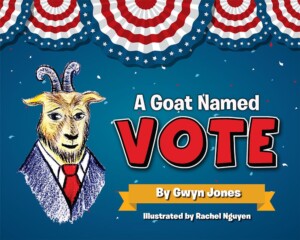 A Goat Named Vote by Gwyn Jones (2020).
Learn more about Gwyn and her book here.  Find out where to purchase her book for yourself here.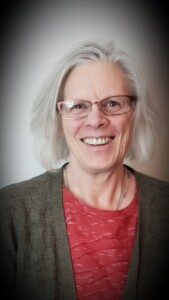 Leslie Lynch
Looking for gripping stories that delve beneath the surface? Discover Leslie Lynch, and fiction that transports, challenges, and heals. Explore her three full-length novels: Hijacked, Unholy Bonds, and Opal's Jubilee; and two novellas: Christmas Hope and Christmas Grace. She is an occasional contributor to the Archdiocese of Indianapolis's newspaper, The Criterion, and holds an MFA in Creative Writing from Spalding University in Louisville. Her work has been included in various anthologies.
Hijacked (The Appalachian Foothills #1) by Leslie Lynch (2014), 250 pages.
Unholy Bonds (The Appalachian Foothills #2) by Leslie Lynch (2014), 315 pages.
Opal's Jubilee (The Appalachian Foothills #3) by Leslie Lynch (2014), 261 pages.
Christmas Hope (The Appalachian Foothills #4) by Leslie Lynch (2014), 77 pages.
Christmas Grace (The Appalachian Foothills #5) by Leslie Lynch (2015), 83 pages.
To learn more, and purchase via your favored platform (including audio books), go to www.leslielynch.com.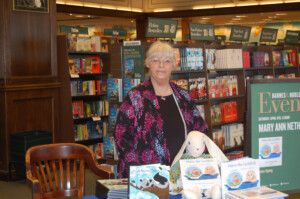 Mary Ann Netherton
Mary Ann Netherton, a Jeffersonville author writes children's books. This is very fitting, Mary Ann, a child at heart, brings a tale to a kid just as they want to hear a story told.
Mary's books can be found on Amazon, and Barnes and Noble. Mary Ann's books are often sold at Farmers Markets, Jeffersonville and New Albany.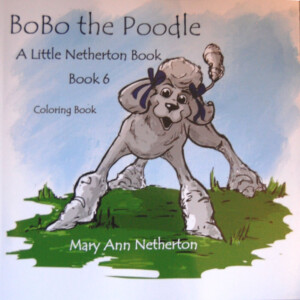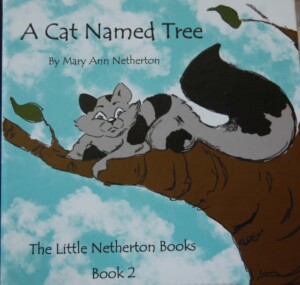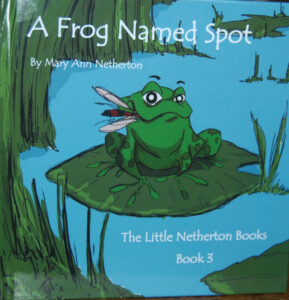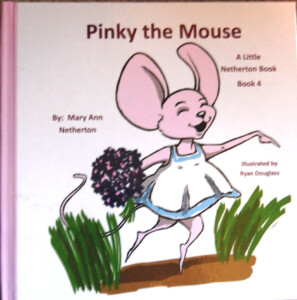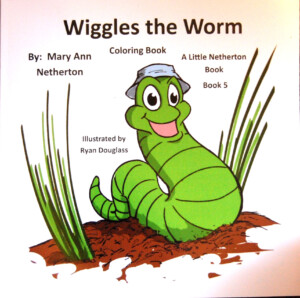 BoBo the Poodle by Mary Ann Netherton (2020).
A Cat Named Tree by Mary Ann Netherton (2019).
A Frog Named Spot by Mary Ann Netherton (2019).
Mario the Goldfish by Mary Ann Netherton (2018).
Pinky the Mouse by Mary Ann Netherton (2019).
Wiggles the Worm by Mary Ann Netherton (2020).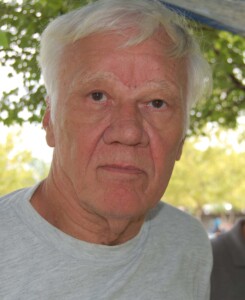 Tom Netherton
Tom Netherton, a Jeffersonville resident has published two books. After spending years on the fields of the Perryville Battlefield, the hardships of the men at that battle were so overwhelming it brought about the book "Footsteps To Perryville". Years of ghost storytelling around campfires with boy scouts gave me the desire to put some stories together in a book, "Haunted Campfires".
Toms books can be found at www.authorself.com, you can purchase from tomwnetherton@gmail.com. Also the books are sold at farmers markets, Jeffersonville and New Albany.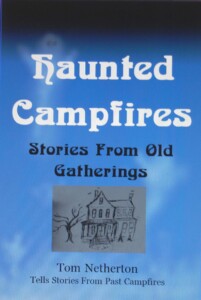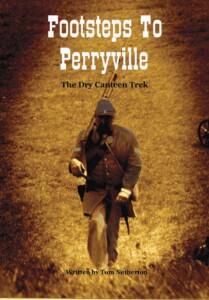 Footsteps to Perryville: The Dry Canteen Trek by Thomas Netherton (2016), 176 pages.
Haunted Campfires: Stories from Old Gatherings by Tom Netherton.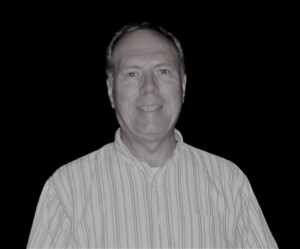 Robert Parker
Owner and guide of the most 'spirited' tour in downtown Louisville, the original, Louisville Ghost Walks, with over 14 years of leading 90 minutes tours of ghosts and mystery in the cities buildings and dark alley ways. So, turn down the lights, lock the doors and delve into this most comprehensive set of books filled with stories that have never appeared in print before from places like the Palace Theater, St. John's Church, Culbertson Mansion, Mercury Ballroom, Whispers Estate in Mitchell, Indiana, Waverly TB, and others!
Author

Storyteller/ guest speaker

Researcher 

Ghost Investigator
Author of the four, Haunted Louisville books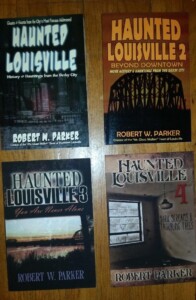 Haunted Louisville: History and Haunting from the Derby City by Robert W. Parker (2007), 108 pages.
Haunted Louisville 2: Beyond Downtown, More History & Hauntings from the Derby City by Robert W. Parker (2010), 140 pages.
Haunted Louisville 3: You Are Never Alone by Robert W. Parker (2014), 138 pages.
Haunted Louisville 4: Dark Screams & Troubling Tales by Robert W. Parker (2019), 207 pages.
Learn more at www.louisvilleghostwalkingtour.com.
Email: loughstwalks@aol.com
Phone: 502-689-5117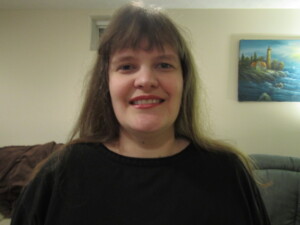 Jen Selinsky
Jen Selinsky was born in Pittsburgh, PA. In 2003, she earned her bachelor's degree in English from Clarion University of Pennsylvania. In 2004, she earned her master's degree in library science from the same school. Jen is a semi-retired librarian. She has published more than 200 books, many of which contain poetry. Her work can be found on the following sites: Amazon, Lulu, Barnes & Noble, Kobo, iTunes, Smashwords, Pen It! Publications, and Books-A-Million, as well as many others. She has also been featured in publications such as: The Courier Journal, The News and Tribune, Pen It! Magazine, Explorer Magazine, Liphar Magazine, and Indiana Libraries. She works as the Senior Editor for Pen It! Publications and also edits Pen It! Magazine, Hydra Publications, and Write Your Best Book. One of her children's books, You Are You! won the IMADJINN Award for Best Children's Book 2019. Jen lives in Sellersburg, IN with her husband.
Bunny's Song by Jen Selinsky (2016), 76 pages.
You Are You! by Jen Selinsky (2018).
You can find out more about Jen Selinsky and her books by visiting:
Margo Smith
Margo Smith is a retired speech-language therapist. She lives in Lexington, Kentucky with her husband and dog, Gigi. They have two adult children. Margo likes to cook, travel, walk, and read. You can learn more about her by visiting her website, margosmithbooks.com.
The Lost Bone and the Found Sister by Margo Smith (2018), 38 pages.
The Perfect Shade of Pink by Margo Smith (2015), 34 pages.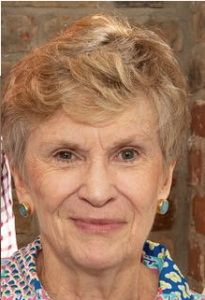 Ellen K. Venhoff
E. K. Venhoff lives in Louisville, Kentucky. As a retired speech therapist, she understands the importance of children's literacy success. "Bridging Connections" is her first book which was co authored with Margo Smith. Ellen's interests are: photography, genealogy, walking and travel. She and husband like to walk and spend time with their grandchildren.
Bridging Connections: Lessons of Life, Learning, and Love by E.K. Venhoff (2019), 36 pages.
Bridging Connections is available to purchase on Amazon, Barnes and Noble, and through Dorrance Publishing.
-Teresa Moulton, Public Service Leader