With news that the hit television program Veronica Mars was back for a much-delayed fourth season after more than a decade off the air, I've found myself hankering for a fun mystery read to round out my summer repertoire. (If you want to watch the show, the three original seasons plus the new one are on Hulu, but you could request DVD copies of seasons 1-3 via SRCS here.)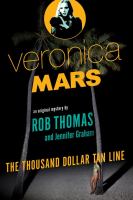 First up, I'd be remiss not to mention that there are Veronica Mars tie-in novels! I've never been big on books that continue canceled TV shows, but these are surprisingly high quality. They were both written by show creator Rob Thomas, in conjunction with other writers, and carry the show's noir vibe and smart characterization through. The first one, The Ten Thousand Dollar Tan Line, was published in 2014 and weighs in at a totally vacation-appropriate 324 pages. The other novel, Mr. Kiss and Tell, is not owned by the library but can be requested through the Statewide Remote Circulation System— it came out in 2015 and is 330 pages.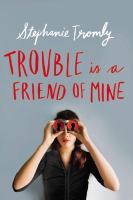 In terms of pure Veronica Mars readalike energy, Trouble is a Friend of Mine is tough to beat. A charismatic, upbeat mystery starring a duo of teen friends? Sign me up! Zoe meets her neighbor Philip Digby– who is always called Digby, and always wears a suit– and doesn't initially like him very much. But Digby's weirdness soon draws her into his quest to solve the mystery of a missing local girl, which may or may not be connected to the case of Digby's own missing sister. Another 2015 book, this one is around the same length as well, at 334 pages. The sequel, Trouble Makes a Comeback, came out in 2016 and is the shortest yet at 298 pages.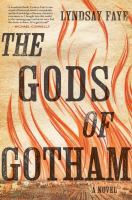 Finally, did you know we have a monthly mystery book group here at the library? It's true! We meet the third Tuesday of every month (in August, that's the 20th). Next month we'll be discussing the first book in Lyndsay Faye's historical mystery trilogy, The Gods of Gotham. Our copies are already checked out, but we still have several of our borrowed copies behind the Upper Customer Service Desk, so just ask! I confess, this is one of my favorites and I'm excited to share it with the group. Faye has an amazing sense of setting and has done a ton of historical research into her chosen place and time– New York City, 1845, the founding of the first standing police department– along with canny and interesting characters. She can make funny jokes out of some very serious topics such as racism, class inequality, child abuse, and mental illness, and write a book that feels fresh while also true to a historical period. This is both the oldest and the longest book I'm bringing you today, from 2012 and 414 pages, but it's more than worth it. If you decide to give it a shot, come by and let me know what you think of it!