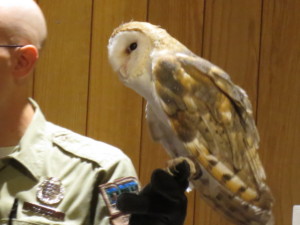 If you or someone you know currently has students enrolled in homeschooling, we'd love you to drop in to the library for our Homeschooler Fridays program.  This program is geared for elementary-age students, but older or younger are welcome.  Last Fall we learned about animal camouflage with a speaker from Purdue Extension; our program and outreach coordinator taught us how to make Frankenstein flower-pot heads in an art project tying in with our Indiana Humanities Frankenstein programming; the "Grey Smith" shared his duct tape creations – armor, weaponry, and costumes.  We also had a free-play session with robots, stuffed gloves and handwarmers and made other crafts for the homeless, and were visited by the owls and other birds-of-prey from Hardy Lake's Raptor Rehab.  Tomorrow's session will focus on genealogy – the study of family history – led by a staff member from our Floyd County History Room.  We've got lots of great programs coming up.  Check out our February schedule:
February 1 – Stop Motion Filmmaking
February 8 – Breakout Box
February 15 – Bird Watching
February 22 – Slime Science
Homeschooler Friday meets every Friday at 10:30 AM.  Drop-ins are welcome.  No registration is required.  Check out other great resources on our website.  We have some great resources from Scholastic as well as other educational databases.  Also check out our full event calendar for other great educational programs.