Are you getting into the Christmas spirit?  Here are some upcoming library programs happening at The Floyd County Library for the holiday season.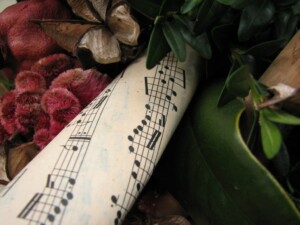 First Friday Concert: Silken Strings Ensemble and New Albany Community Choir
Friday, December 6
12-12:30 PM
All ages
No registration required
Free lunchtime concert series held the first Friday of the month at noon. The First Friday Concerts are free and open to the public, and no registration is required. All ages are welcome! The concerts are sponsored by the Kentuckiana Association of Musicians and Singers, and Dahmke Piano Technicians.
Friday, December 6th, 12 PM: Silken Strings Ensemble and New Albany Community Choir
Program: Christmas suite (arr. Forest Etling); The Lord is my Shepherd (John Rutter)
Plus, other seasonal favorites.
*****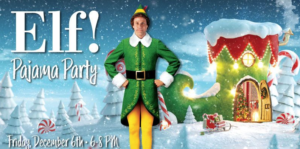 Friday, December 6
6-8 PM (*after hours!*)
All ages
No registration required
Join us for this magical, after-hours pajama party. We invite all families and lovers of the 2003 film version of Elf to join us for a celebration of all things Christmas. The film will be screened throughout the event as we enjoy a reading of the book "Elf: A Short Story of a Tall Tale," sing loud for all to hear, enjoy games and crafts and much more. Don't be a cotton-headed ninny muggins, come and join the fun!
*****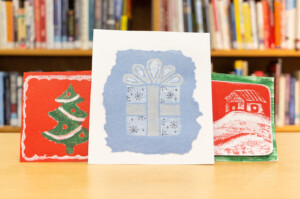 Make-It Take It Crafts: Stamped Holiday Cards
Wednesday, December 11
6-7 PM
Adults only
Make your own stamps from flat Styrofoam (like an egg carton or takeout container – all provided) and then use paint to stamp and create one-of-a-kind holiday cards! Add painted details after stamping to make your cards even more unique. We'll have some fun extras made on the Cricut that you can use too.
*****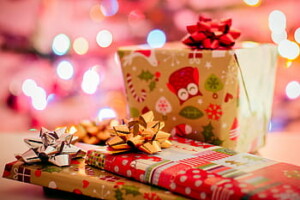 Thursday, December 12
6:30-8 PM
Adults
Registration encouraged but not required
Take your gift-wrapping skills from meh to marvelous with this interactive workshop. Bring gifts you need to wrap or practice with empty boxes as we cover them with shiny paper, hand-made bows, and tulle creations you can be proud of.
*****
Holiday Party: Meet Santa and Enjoy Crafts & Treats
Saturday, December 14
10 AM – 1 PM
All ages
No registration required
Meet Santa and enjoy sweet treats during a winter wonderland event at the Library. Guests of all ages can visit Santa Claus at the main entrance by the giant Grinch tree, where he will be ready to listen to Christmas wishes.
With a holiday twist, craft stations will be set up to inspire children to learn and create. A Gingerbread STEM Workshop will let kids use gingerbread, icing, and candy to build a creative house or structure of their own design. Our snowman ornament activity uses LED tealights with a dash of imagination – turn on the tea light and the "flame" becomes the snowman's carrot nose.
The Corydon Dulcimer Society will be playing classical, contemporary, spiritual, and original holiday selections from 10 AM-12 PM for all to enjoy.
Children can receive a custom-made balloon creation from Frank Schroeder, the Balloon Man. This free event is sponsored by the Friends of the Library.
*****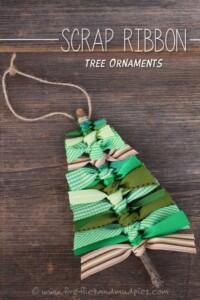 Saturday, December 21
2-3 PM
3rd-7th graders
It's beginning to look a lot like Christmas…Tree Ornament? Join us as we make this adorable Fabric Tree Ornament. Supplies are free but limited, so make sure to register!
*****
From all of us at The Floyd County Library, have a safe and happy holiday season!
-Teresa Moulton, Public Service Leader