If you have a young graphic novel lover in your life (or maybe you ARE a young graphic novel lover), this list is for you. All of these wonderful graphic novels are available digitally in our Overdrive collection and available in print to request for curbside pickup. And don't worry: graphic novels are definitely considered REAL BOOKS. This year, a graphic novel even won the Newbery Medal. If you need more convincing, you don't have to take our word for it. Check out 5 Reasons Your Child Should Read Graphic Novels and then check out all of these books:
For kids: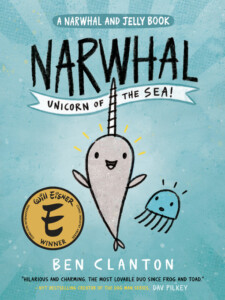 Narwhal: Unicorn of the Sea by Ben Clanton. Join Narwhal and his new best friend Jelly for cute, funny adventures under the sea. If you like funny friendship duos like Bink & Gollie or Frog & Toad, you'll love Narwhal and Jelly. Place a hold on the print book here.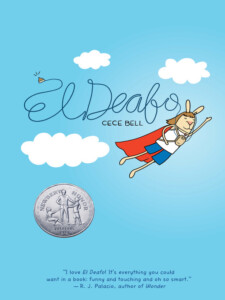 El Deafo by Cece Bell. This is one of my all-time favorites because I was on the Newbery Committee that awarded El Deafo a Newbery honor! It's based on the author's childhood growing up with hearing loss and a great book to read if you love Smile by Raina Telgemeier. Please a hold on the print book here.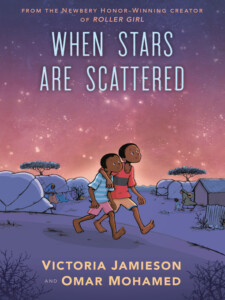 When Stars Are Scattered by Victoria Jamieson and Omar Mohamed. This is one of my favorite books of 2020 so far. It's a comic memoir about a Somalian refugee growing up in a refugee camp in Kenya. This is a book that's got a lot to say and it's incredibly moving. I think kids who enjoy books like Refugee by Alan Gratz would enjoy this one. Place a hold on the print book here.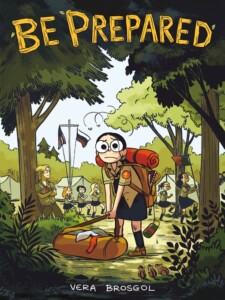 Be Prepared by Vera Brosgol. As we head into summer, this story about a girl heading to sleepaway camp for the first time will have kids both laughing and groaning as Vera struggles to fit in at Russian Orthodox summer camp. Readers of Raina Telgemeier will enjoy this one, too. Place a hold on the print book here.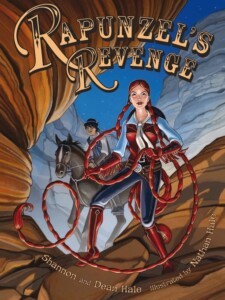 Rapunzel's Revenge by Shannon and Dean Hale, illustrated by Nathan Hale. You may know about Shannon Hale's comics Best Friends and Real Friends, but if you like fractured fairy tales, you're going to love this one. In this version of Rapunzel, she rescues herself from the tower and then uses her long hair like a lasso to get revenge on the witch who imprisoned her. Place a hold on the print book here.
For teens:
Dragon Hoops by Gene Luen Yang. Here's another one of my favorite books of 2020. Gene Yang's latest graphic memoir focuses on the basketball team at the high school where he teaches, an amazing team headed to the State Championships. This is a do-not-miss for basketball fans and even if you're not a huge sports fan, if you like memoirs, you may like this. Place a hold on the print book here.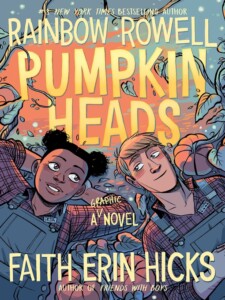 Pumpkinheads by Rainbow Rowell and Faith Erin Hicks. This is definitely a book that'll hit you in the falls (get it? Like feels?), but I think you can joy it any time of year. Deja and Josiah, seasonal best friends, have been working at the same pumpkin patch every autumn throughout high school. Now it's the last night of their last season and they have one night to experience every part of their favorite fall tradition… and for Josiah to finally talk to the girl he's been crushing on for three years. Graduating seniors may feel especially nostalgic reading this book, but any fans of contemporary YA books should pick it up. Place a hold on the print book here.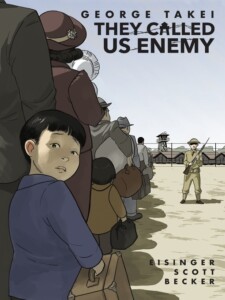 They Called Us Enemy by George Takei. You may know actor George Takei from his work on Star Trek and beyond, but here he bears his soul and gives us a glimpse of his childhood. Takei's family was sent to a Japanese Internment Camp during WWII when he was four years old and he writes about that time in this graphic memoir. It's not to be missed and a great choice for both teens and adults. Please a hold on the print book here.
This is just a sampling of the graphic novels we have available in over Overdrive e-book collection. Happy reading!