Are you a genre reader? Do you gravitate toward mysteries or is fantasy your special favorite?
Our PAC (public access catalog) can help you find books in your favorite fiction genres!
Your first step is to do a search in the catalog for "fiction". If you're starting from our main webpage, you're going to want to select "Search Catalog Only". This is going to bring up THOUSANDS of results, but don't worry, we're not done.

Next, you're going to use the limiters on the left-hand side of the screen to limit your results to what you want to see. There are lots of different limiters, but the ones I find most useful for this search are Format (book, e-book, audiobook, large print, etc.) and Genre. You can definitely get in there and play around with these limiters – you may find things you never knew we had!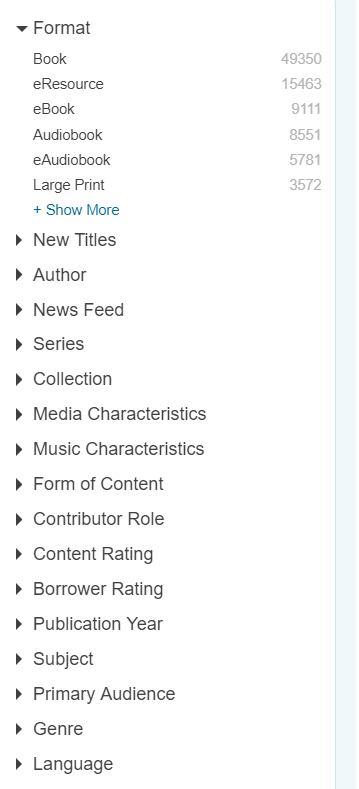 For limiting by genre, we're going to open up the genre menu and select one of the genres listed. When you open up the genre menu (by clicking on the little arrow to the left of the word "Genre"), you'll see a list of genres with the number of books in that category to the right. It only shows a handful, but if you click on Show More, you'll see more and more…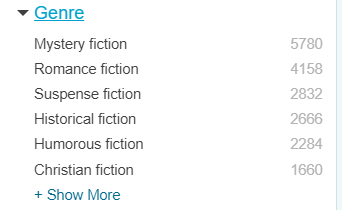 There is definitely some overlap in genres: you'll see both "mystery fiction" and the more specific "detective and mystery fiction". You may also see "thrillers" and "suspense" and "psychological fiction". I know it's a lot to wade through, but if you play around with it a little bit, I think it'll be helpful.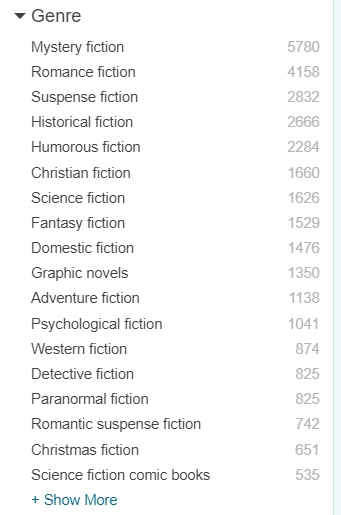 You can even drill down into more specific genre types by opening up more than one type of genre. Here, I've clicked on the more general Mystery fiction and then when I open up my genre limiters for those results, I can select from Historical fiction (that would bring up books with both the mystery fiction genre and the historical fiction genre – historical mysteries), humorous fiction (if I like mysteries that are funny), etc.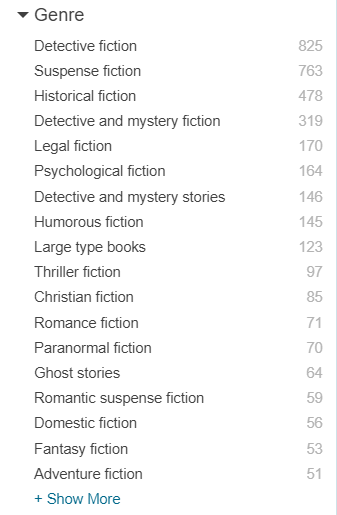 Once you have your results from whatever genre you're looking for, you can also sort them. I love to sort by Publication Date so I'm seeing the newest stuff at the top. You can also sort by Newest Added to see the newest stuff added to the catalog – many of those items will be on order and you can put your name on the holds list for it.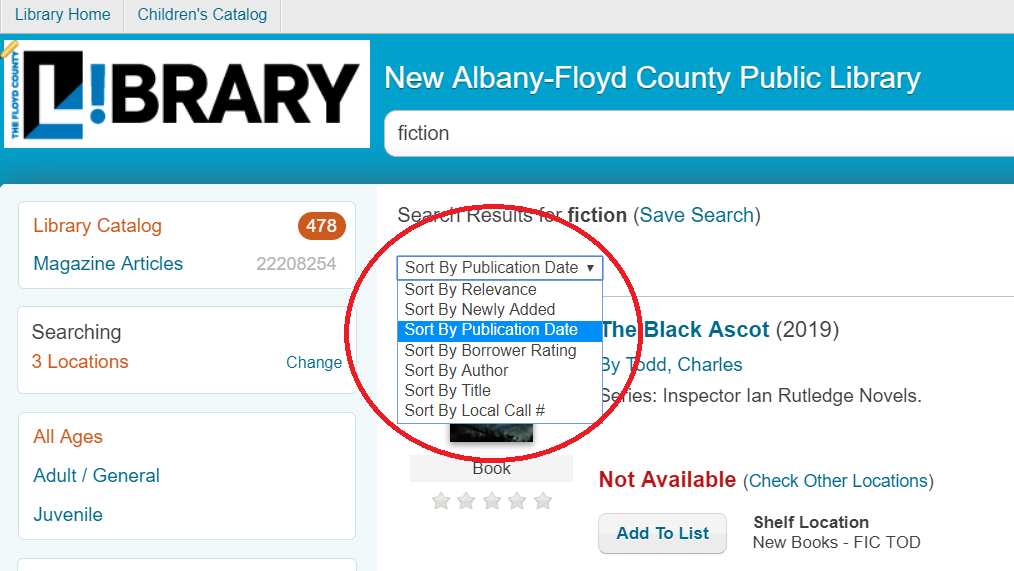 Your results may not be perfect every time. We do our very best to make sure that we're including genre information when we add new books, but we get lots of new books each week and sometimes it's not obvious what genre they fall into. But this is at least a place to start exploring the catalog and finding books that you like. And if you are ever having trouble finding something, please don't hesitate to ask our library staff to help. That's what we're here for!
I hope this post will help you get started searching. Remember, you can place items on hold from home and we'll pull them for you for quick pickup from our holds shelf. And don't forget that you can sign up for a FREE weekly email from Wowbrary to see all the new stuff we've ordered and put your name on the holds list.
Let me know in comments if you have any questions about how to search our catalog. I'd be happy to help you make the most out of what our library has to offer you.
— Abby Johnson, Collection Development Leader