As some of you know, I am currently working on my Masters in Library and Information Science.  One of my class assignments was to choose a young adult magazine and provide reading recommendations for people who read that magazine and would like to read something within their interests.  I chose Game Informer.  It's our newest magazine in our Teen Scene.
Game Informer is a monthly magazine that highlights new or coming soon video games and gives a preview of what the game looks like and insights into gameplay.  It also features articles that are more behind the scenes, such as how something was created or a biography of a particular game maker.  Some issues include fan art and buyer guides, as well.
As for reading recommendations, I thought about what draws someone to video games.  It varies, of course, depending on the type of games you like to play.  However, I think the big draw is visuals.  For that reason, I recommend manga, comics, and graphic novels.  There are hundreds of options at the library, but I'd like to suggest a few in particular…
Manga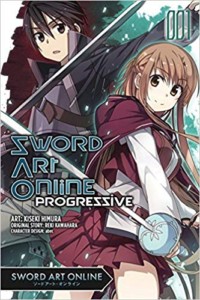 Sword Art Online
by various authors
There are several sub-series of Sword Art Online, including Aincrad, Fairy Dance, Hollow Realization, and Progressive, to name a few.  The overarching premise for all of the sub-series is that SAO is virtual reality massively multiplayer online game (VR MMO), wherein the central character finds him or herself trapped and must discover the way to end the game.  The cover art to the left is for Progressive.
Progressive:  An astute teen, Yuuki Asuna spends most of her time studying for her high school entrance exams. One day, she borrows her brother's virtual reality game, 'Sword Art Online,' and finds herself trapped in its fantasy world. Soon, though, she learns the mechanics of the game, develops her swordplay technique and impresses a pro gamer who invites her to join the best players on the front lines. Is Asuna ready to swap her hard-earned education ethics for high-rank play in a virtual realm?
Naruto
by Masashi Kishimoto
In another world, ninja are the ultimate power–and in the village of Konohagakure live the stealthiest ninja in the world. But twelve years ago Konohagakure was attached by a fearsome threat–a nine-tailed fox demon which claimed the life of the Hokage, the village champion. Today, peace has returned, and a troublemaking orphan named Uzumaki Naruto is struggling to graduate from the ninja Academy. His goal: to become the next Hokage. But unknown to Naruto and his classmates, within him is a terrifying force …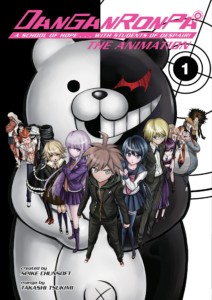 DanGanRonPa
by Takashi Tsukimi
YOUR FIRST DAY OF CLASS WILL BE…MURDER!!! Welcome to Hope's Peak Academy, which selects only the elite…plus one ordinary student, chosen by lottery. Makoto Naegi was that lucky person–or so he thought! When he shows up for class, he finds the students are a bizarre cast of oddballs under the ruthless authority of a robot teddy bear principal, Monokuma. The bear lays down the school rules: the only way out of Hope's Peak is to not only murder another student…but get away with it, in a tribunal where the survivors cross-examine each other! Inspired by the Danganronpa videogame series from NIS America…based on the anime series from Funimation! The first Danganronpa manga to be released in English has twists and turns of its own!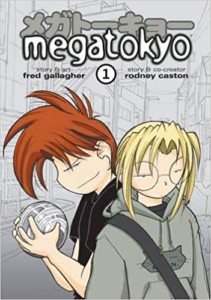 by Fred Gallagher
It's the story of Piro, a manga/anime fan, and Largo, a hardcore gamer, alter egos of the comic's co-creators. They hop a plane to Tokyo, the Mecca of their Japanese pop culture obsessions: computer games, Japanese comics, anime and, of course, cute Japanese girls in school uniforms. The two max out their credit cards and end up stranded. Readers soon learn Piro is vaguely depressed and comically frightened of the cute girls he fantasizes about, while Largo has problems separating reality from virtual reality.
Comics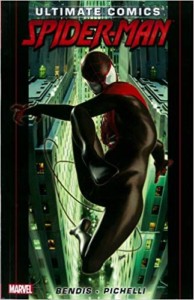 Ultimate Comics Spider-Man
by Brian Michael Bendis
Before the original Spider-Man died, young Miles Morales was poised to start the next chapter of his life in a new school. Then, the bite of a stolen, genetically altered spider granted the grade-schooler incredible arachnid-like powers. Now, Miles has been thrust into a world he doesn't understand, with gut instinct and a little thing called responsibility as his only guides. Can he live up to Peter Parker's legacy?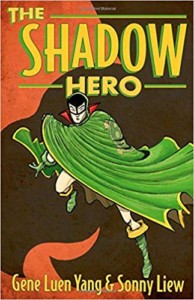 The Shadow Hero
by Gene Luen Yang
In the comics boom of the 1940s, a legend was born: the Green Turtle. He solved crimes and fought injustice just like the other comics characters. But this mysterious masked crusader was hiding something more than your run-of-the-mill secret identity: the Green Turtle was the first Asian American super hero. The comic had a short run before lapsing into obscurity, but Gene Luen Yang has revived this character in Shadow Hero, a new graphic novel that creates an origin story for the Green Turtle.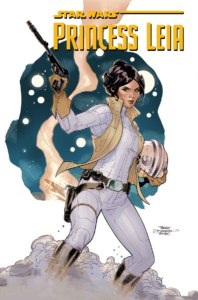 Star Wars: Princess Leia
by Mark Waid
When Princess Leia Organa was captured by the Empire, she never betrayed her convictions – even after the complete destruction of her home world, Alderaan. When her rescue came, Leia grabbed a blaster and joined the fight, escaping back to the Rebel Alliance and helping strike the biggest blow against the Empire – the destruction of the Death Star But in the aftermath of that victory, the question remains…what is a princess without a world? As Leia comes to grips with her loss, a new mission leads her to the underground world of Sullust. The Empire is rounding up fugitive Alderaanians, and that doesn't sit well with their Princess But what can one woman do against the Galactic Empire? They're about to find out Join the galaxy's toughest Princess on a quest to save her people and rebuild her life.
Graphic Novels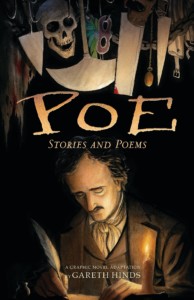 Poe: Stories and Poems: A Graphic Novel Adaptation
by Gareth Hinds
In "The Cask of Amontillado," a man exacts revenge on a disloyal friend at carnival, luring him into catacombs below the city. In "The Masque of the Red Death," a prince shielding himself from plague hosts a doomed party inside his abbey stronghold. A prisoner of the Spanish Inquisition, faced with a swinging blade and swarming rats, can't see his tormentors in "The Pit and the Pendulum," and in "The Tell-Tale Heart," a milky eye and a deafening heartbeat reveal the effects of conscience and creeping madness. Alongside these tales are visual interpretations of three poems — "The Raven," "The Bells," and Poe's poignant elegy to lost love, "Annabel Lee." The seven concise graphic narratives, keyed to thematic icons, amplify and honor the timeless legacy of a master of gothic horror.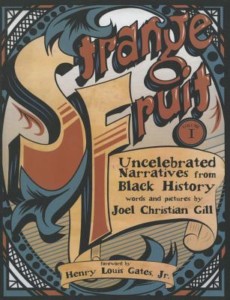 Strange Fruit
by Joel Christian Gill
Strange Fruit, Volume I, Uncelebrated narratives from Black history is a collection of stories from African American history that exemplifies success in the face of great adversity. This unique graphic anthology offers historical and cultural commentaryon nine uncelebrated heroes whose stories are not often found in history books. Among the stories included are: Henry 'Box' Brown, who escaped from slavery by mailing himself to Philadelphia; Alexander Crummel and the Noyes Academy, the first integrated school in America, established in the 1830s; Marshall 'Major' Taylor, a.k.a. the Black Cyclone, the first Black champion in any sport; and Bass Reeves, the most successful lawman in the Old West. Written and illustrated by Joel Christian Gill, the diverseart beautifully captures the spirit of each remarkable individual and opens a window into an important part of American history.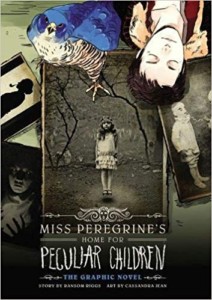 Miss Peregrine's Home for Peculiar Children
by Ransom Riggs
A horrific family tragedy sets sixteen-year-old Jacob on a journey to a remote island off the coast of Wales, where he discovers the crumbling ruins of Miss Peregrine's Home for Peculiar Children. As Jacob explores its abandoned bedrooms and hallways, it becomes clear that the children were more than just peculiar. They may have been dangerous. They may have been quarantined on a deserted island for good reason. And somehow–impossible though it seems–they may still be alive.