Looking for great books for kids by African American authors? These choices are perfect for summer reading or anytime.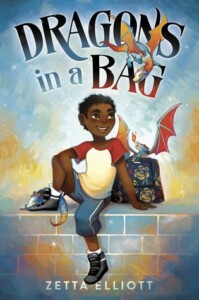 Dragons in a Bag by Zetta Elliott (2018; 154 pages). When Jaxon is sent to spend the day with a mean old lady his mother calls Ma, he finds out she's not his grandmother–but she is a witch! She needs his help delivering baby dragons to a magical world where they'll be safe. There are two rules when it comes to the dragons: don't let them out of the bag and don't feed them anything sweet. Before he knows it, Jax and his friends Vikram and Kavita have broken both rules! Will Jax get the baby dragons delivered safe and sound? Or will they be lost in Brooklyn forever? If you love fantasy, this one may be a hit.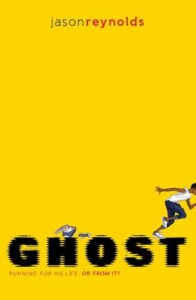 Ghost by Jason Reynolds (2016; 181 pages). Also available on downloadable audiobook and this one's great on audio! Running. That's all Ghost (real name Castle Cranshaw) has ever known. But Ghost has been running for the wrong reasons–it all started with running away from his father, who, when Ghost was a very little boy, chased him and his mother through their apartment, then down the street, with a loaded gun, aiming to kill. Since then, Ghost has been the one causing problems–and running away from them–until he meets Coach, an ex-Olympic Medalist who sees something in Ghost: crazy natural talent. If Ghost can stay on track, literally and figuratively, he could be the best sprinter in the city. Can Ghost harness his raw talent for speed, or will his past finally catch up to him? This one's perfect for sports fans and you'll want to check out the entire Track series.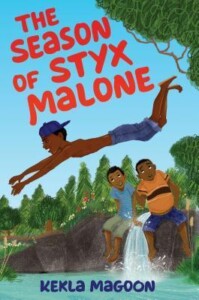 The Season of Styx Malone by Kekla Magoon (2018; 297 pages). Also available on ebook and CD audiobook. Caleb Franklin and his big brother Bobby Gene are excited to have adventures in the woods behind their house. But Caleb dreams of venturing beyond their ordinary small town.Then Caleb and Bobby Gene meet new neighbor Styx Malone. Styx is sixteen and oozes cool. Styx promises the brothers that together, the three of them can pull off the Great Escalator Trade–exchanging one small thing for something better until they achieve their wildest dream. But as the trades get bigger, the brothers soon find themselves in over their heads. Styx has secrets–secrets so big they could ruin everything. Summer is the perfect season for this book.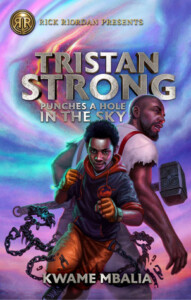 Tristan Strong Punches a Hole in the Sky by Kwame Mbalia (2019; 496 pages). Also available on ebook and CD audiobook. Perfect for fans of Percy Jackson, this fantasy adventure story stars seventh grader Tristan Strong who feels anything but strong after he failed to save his best friend when they were in a bus accident together. His parents send him to spend the summer at his grandparents' in Alabama where a strange sticky creature — is that a doll? — tries to steal his journal and Tristant punches a tree, accidentally ripping open a chasm to the MidPass and caught in the middle of an epic battle that has left black American folk heroes John Henry and Brer Rabbit exhausted. Can the new allies save the world? Or is bartering with Anansi the trickster going to come with too big a price?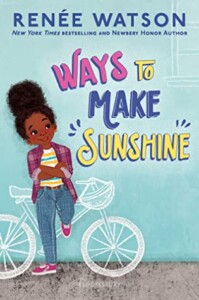 Ways to Make Sunshine by Renee Watson (2020; 177 pages). Ryan Hart loves to spend time with her friends, loves to invent recipies, and has a lot on her mind–school, self-image, and family. Her dad finally has a new job, but money is tight. That means changes like selling their second car and moving into a new (old) house. But Ryan is a girl who knows how to make sunshine out of setbacks. This Ramona-esque new series starter is perfect for readers of Beverly Cleary.