Here's the Rub: Experiencing History Through Art
Blog and artwork by: Al Gorman, Coordinator of Public Programs and Engagement
Carnegie Center for Art and History, A Branch of the Floyd County Library
With minimal art materials (paper, graphite, crayons, for example), you can explore history through the built environment around us.  As we have experienced in Louisville, public art and historic monuments are under new scrutiny and critique.  Historic plaques, cornerstones, and other inscriptions are often found in public places of significance and often reflect the times in which they were dedicated.  Here is an interesting method of re-examining and re-contextualizing the information they may contain.
Taking a page from genealogists who make rubbings from tombstones while researching ancestors.  It is also possible to make rubbings from the double-side historic plaques found in many town and city squares.  Art in public places often has accompanying information on plaques near sculptures that rubbings can be made from the metal inscriptions.  Creating a rubbing using paper and graphite over a plaque is easy and will not hurt it.  The use of a little painter's tape to secure the paper will help.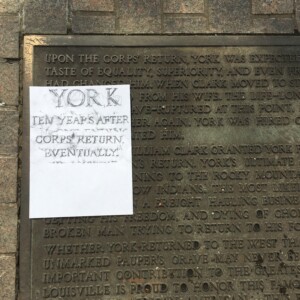 I have made rubbings from plaques in New Albany and Clarksville, IN as well as Louisville, KY.  I used inscriptions carved into the stone of the Carnegie Center for Art and History too.  Our proximity to the Lewis and Clark story as well as Ed Hamilton's York statue present opportunities to create new expressions from the information they contain.  The same is true of Lucy Higgs Nichols' story and the recently dedicated Underground Railroad Park behind New Albany's Town Clock Church where I also tried this out on the plaques and information there.  It is possible to combine histories from several different plaques onto one sheet of paper.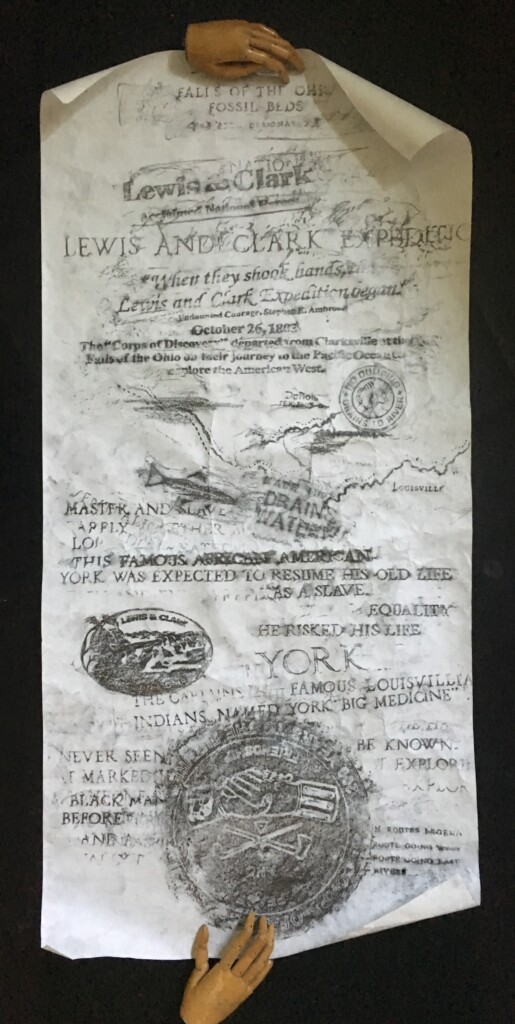 What kinds of information are prioritized on the plaques?  Are there particular words or repeated phrases that strike you?  Have you noticed what kinds of actions become "plaque worthy"?  Whose story and experience is being memorialized?  How is American history changing now?