Across our country, protesters are speaking out against racist treatment of Black citizens. If you would like to educate yourself on the issues at play and what you can do to help, there are some books in the library's collection available to you.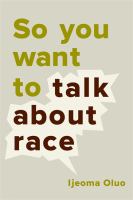 So You Want to Talk About Race by Ijeoma Oluo (2018, 248 pages). Widespread reporting on aspects of white supremacy–from police brutality to the mass incarceration of Black Americans–has put a media spotlight on racism in our society. Still, it is a difficult subject to talk about. How do you tell your roommate her jokes are racist? Why did your sister-in-law take umbrage when you asked to touch her hair–and how do you make it right? How do you explain white privilege to your white, privileged friend? In So You Want to Talk About Race, Ijeoma Oluo guides readers of all races through subjects ranging from intersectionality and affirmative action to "model minorities" in an attempt to make the seemingly impossible possible: honest conversations about race and racism, and how they infect almost every aspect of American life. Also available in both ebook and digital audio formats through OverDrive.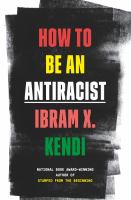 How to Be an Antiracist by Ibram X. Kendi (2019, 305 pages). Ibram X. Kendi's concept of antiracism reenergizes and reshapes the conversation about racial justice in America–but even more fundamentally, points us toward liberating new ways of thinking about ourselves and each other. In How to be an Antiracist, Kendi asks us to think about what an antiracist society might look like, and how we can play an active role in building it. In this book, Kendi weaves together an electrifying combination of ethics, history, law, and science, bringing it all together with an engaging personal narrative of his own awakening to antiracism. How to Be an Antiracist is an essential work for anyone who wants to go beyond an awareness of racism to the next step: contributing to the formation of a truly just and equitable society.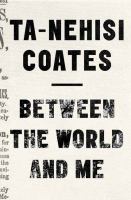 Between the World and Me by Ta-Nehisi Coates (2015, 152 pages). In a profound work that pivots from the biggest questions about American history and ideals to the most intimate concerns of a father for his son, Ta-Nehisi Coates offers a powerful new framework for understanding our nation's history and current crisis. Americans have built an empire on the idea of "race," a falsehood that damages us all but falls most heavily on the bodies of black women and men—bodies exploited through slavery and segregation, and, today, threatened, locked up, and murdered out of all proportion. What is it like to inhabit a black body and find a way to live within it? And how can we all honestly reckon with this fraught history and free ourselves from its burden? Also available in large print, audio CD, and ebook through OverDrive.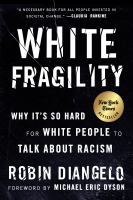 White Fragility by Robin Diangelo (2019, 169 pages). Referring to the defensive moves that white people make when challenged racially, white fragility is characterized by emotions such as anger, fear, and guilt and by behaviors including argumentation and silence. These behaviors, in turn, function to reinstate white racial equilibrium and prevent any meaningful cross-racial dialogue. In this in-depth exploration, anti-racist educator Robin DiAngelo examines how white fragility develops, how it protects racial inequality, and what can be done to engage more constructively. Also available as an ebook through Overdrive.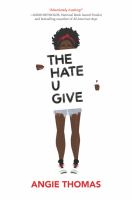 The Hate U Give by Angie Thomas (2017, 444 pages). To rounds put our list, I'm including one fiction selection. You may have seen the movie, but the book is better. Sixteen-year-old Starr Carter moves between two worlds: the poor neighborhood where she lives and the fancy suburban prep school she attends. The uneasy balance between these worlds is shattered when Starr witnesses the fatal shooting of her childhood best friend Khalil at the hands of a police officer. Khalil was unarmed. Soon afterward, his death is a national headline. Some are calling him a thug, maybe even a drug dealer and a gangbanger. Protesters are taking to the streets in Khalil's name. Some cops and the local drug lord try to intimidate Starr and her family. What everyone wants to know is: what really went down that night? And the only person alive who can answer that is Starr. Also available in audio CD, as well as both ebook and digital audio through OverDrive.
If you need a library card, you can get one by following the directions found here. If you decide to check any of these items out, your holds will be available for curbside pickup.