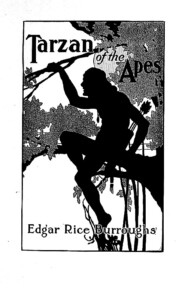 You may or may not know that the library has been working with Indiana University Southeast for the last year to revisit classic works of literature you may have read in school or may have only heard about, and dig in to what they're really about. This month, we will be hosting an online-only version of that discussion.
Join us online for "Dusting Off the Classics" with presenter Christopher Proctor, on Tuesday, April 14th at 6:00 PM EDT! We will be discussing "Tarzan of the Apes" (Book 1) by Edgar Rice Burroughs, and there are unlimited digital copies available through the Floyd County Library on Overdrive as well as on hoopla as both an ebook and an eaudiobook. On April 14th, we'll post a link with instructions for you to join an online video conference led by Christopher Proctor, using Zoom.
To find the video chat link, visit the library's Facebook on April 14th to get the link. If you have never used Zoom before, it will prompt you on how to install the program. It takes only a couple of clicks, and you should be in within minutes.
If you would like to participate but need a library card to get a copy of the book, you can get one from our online application by clicking here and following the directions under "create account."
Happy reading, and hope to see your faces next week!