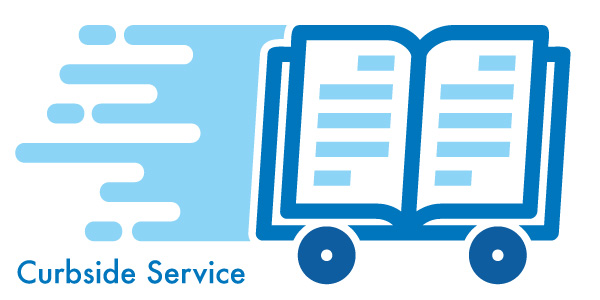 We are looking forward to re-opening the Library through a phased plan. Our 3 Library locations (New Albany Central, Galena Digital, and Carnegie Center for Art & History) will remain closed for the time being, as we work to provide curbside services.
Curbside Returns
Monday – Friday: 10 AM – 1 PM, 2 PM – 5:30 PM
Saturday: 10 AM – 2 PM
Curbside return of materials will begin Monday, May 11th at The Floyd County Library's New Albany Central location. Please pull in to Ayers St. to access the Curbside Returns Zone. You will find boxes outside for returning books and media. Please grab bags (readily available at the Curbside Zone) and place books into one bag and all other media items in the other bag. Then place each bag in their respective marked boxes.
Curbside Holds Pick-Up
Monday – Friday: 10 AM – 5:30 PM
Saturday: 10 AM – 2 PM
Curbside holds pick-up is now available at both The Floyd County Library's Central location and Galena Digital Library. Place holds on books and media items using our online catalog system or call (812) 944-8464 to place holds by phone. When placing a hold, make sure to select your pick-up location.
To access our catalog, visit www.floydlibrary.org and click on "My Account". You will need your Library Card number and Library PIN (automatically set to the last 4 digits of the phone number you listed when signing up for a card) to log in and place holds on materials.
You will receive a notification when your holds are ready to pick up (by email, text or call, depending on your preference settings). When you arrive at the curbside pick-up line, call (812) 949-4422 or  (812) 944-8464 to notify staff that you are parked and prepared for pick-up (during pick-up hours). If you are picking up items at Galena Digital Library, please call (812) 949-3060 for assistance. Staff will verify your pick-up request and place bagged items either in your trunk or on the curb, depending on your preference.
We have missed seeing your faces, chatting over books, working on projects in our Makerspace, at story time and other Library events. Thanks for being understanding as we all navigate life during COVID-19.