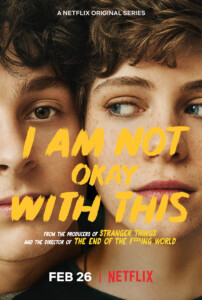 My husband and I were practicing our social distancing this weekend by staying in and binge-watching a little Netflix. We stumbled on the show I Am Not Okay With This and devoured all seven episodes. Imagine my delight to find that the show is based on a comic and it's available to check out on Hoopla!
I Am Not Okay with This centers on a high school girl, Sydney, who is mourning her dad's suicide, constantly bickering with her mom, and harboring a secret crush on her best friend. And, oh yeah, she suddenly has superpowers that she is nowhere close to being able to control.
The show is narrated by Sydney's diary entries as she desperately tries to deal with everything going on and tries not to blow up her neighborhood or her school. It's darkly humorous and it was a great pick for my husband and I – I love teen dramas and he loves superhero comics.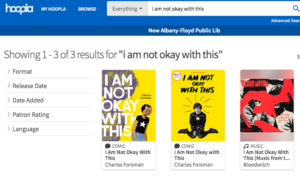 If you've been binge-watching this (or if I've piqued your interest), you can check out and read the original comic from Hoopla. New to Hoopla? Floyd County residents get 8 downloads a month and you can set up a free account with your library card. Visit hoopladigital.com to get started and reach out to us with a comment on this post if you need help setting up your account.
Don't have a library card yet? Fill out our Online Borrower Registration to get a digital library card and access digital materials immediately!