Arrrrr! September 19 be talk like a pirate day. If ye be hankerin' fer a bucketfull of great pirate books, take a gander at these!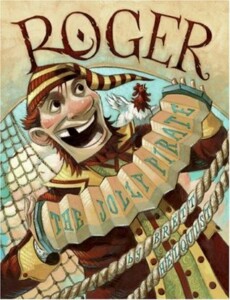 Roger the Jolly Pirate by Brett Helquist (2004). Jolly Roger is not like the other pirates. He smiles instead of scowls and the other pirates banish him belowdecks when there is serious fighting to be done. But Roger will get a chance to prove himself in a very unique way! This is a fun story with bouncy, rhyming text that begs to be read aloud. Grab your favorite kiddos and introduce them to Jolly Roger!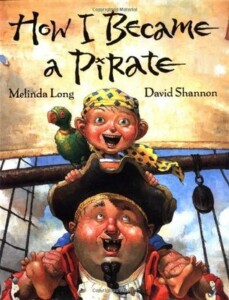 How I Became a Pirate by Melinda Long (2003). When Braid Beard's pirate crew invites Jeremy Jacob to join their voyage, he jumps right on board. Buried treasure, sea chanteys, pirate talk–who wouldn't go along? Soon Jeremy Jacob knows all about being a pirate. He throws his food across the table and his manners to the wind. He hollers like thunder and laughs off bedtime. It's the heave-ho, blow-the-man-down, very best time of his life. Until he finds out what pirates don't do–no reading bedtime stories, no tucking kids in. . . . Maybe being a pirate isn't so great after all. This is a really fun picture book about the lives of pirates, perfect for a bedtime readaloud.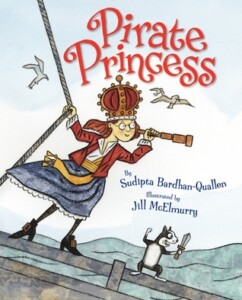 Pirate Princess by Sudipta Bardhan-Quallen (2012). Princess Bea isn't like other princesses – she longs for the pirate life! But when she gets her chance to join a crew, she finds that pirate life isn't exactly what she expected and she's not actually very good at many of the jobs. But then comes a job she is perfect for! This fun rhyming book shows that girls can be whatever they want to be.
Pirateology by Dugold A. Steer (2008; 78 pages). Part of the 'ology series (like Wizardology, etc.), this book is a visual feast about all things pirate as the fictional captain William Lubber describes what life was like for pirates in the 1800s. If you want to learn about pirate life, this is a great one to pick up.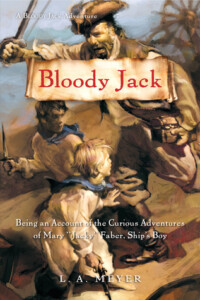 Bloody Jack: Being an Account of the Curious Adventures of Mary "Jacky" Faber, Ship's Boy by L.A. Meyer (2004; 301 pages). Orphaned at age 8, Mary Faber strikes out on her own, disguised as a boy. She takes a job as a ship's boy on a British warship and has to keep up her deception, even as she starts to fall for one of the other ship's boys. This rip-roaring adventures story has a ton of heart and humor, daring sea battles, and it's the first book in the Jacky Faber series. The audiobook, read by the late Katherine Kellgren, is AMAZING and we have it in our Overdrive collection. Jacky may not be a pirate in this first one, but just ye wait!
Yo ho ho!
— Abby Johnson, Collection Development Leader