It's our favorite time of year at the library: Summer Reading time!!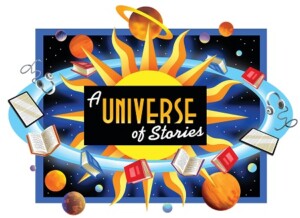 This summer, we'll explore A Universe of Stories and look at space, rockets, the anniversary of the moon landing, and more. And, of course, people of all ages can earn prizes for reading whatever you like. That's right: ALL AGES. Summer Reading is not just for kids! Sign up for the Summer Reading Program today and log your reading all summer long to earn great prizes!
Here are some of the awesome things going on at the library this summer:
StoryWalk! (Coming Soon!)
Visit our NEW StoryWalk located at Kevin Hammersmith Memorial Park (4400 Lewis Endres Parkway, right behind Northside Christian Church in New Albany). Take a walk and read a story as you go. You can even log your time spent reading/walking for the Summer Reading Program. As of this post, our StoryWalk hasn't been installed yet, but we will be sure and let you know when it's ready.
Summer Reading at the Galena Digital Branch!
You can check out & return books, pick up holds, download e-books, use the Makerspace, book a meeting room, play with toys, and more at our NEW Galena Digital Branch (6954 Hwy 150, Floyds Knobs, IN). You can also check in and collect Summer Reading prizes at the branch. Don't forget to stop by this summer and check out our program calendar for all the fun stuff happening at the branch! The Galena Digital Branch is open Monday – Thursday from 11am to 7pm and Friday & Saturday from 9am to 5:30pm.
Cultural Pass!
Again this year, Floyd County residents ages 21 and under are eligible for a free cultural pass, which gives you one-time free admission to many cool cultural venues in Louisville and Southern Indiana. Participating venues include The Louisville Zoo, The Kentucky Science Center, Falls of the Ohio State Park, Speed Art Museum and more! Find out more about the Cultural Pass by clicking here.
Free Summer Lunches for Kids and Teens!
Free lunch will be served at the library each weekday from June 3 through July 12 from 12pm-12:30pm to anyone under 18. There's no enrollment and no fee – just show up and grab lunch at the library.
Storytimes, Star Wars Day, LEGO Robotics, Space Camp and MORE!
Check out our schedule of programs for information on all the fun, FREE events for kids and teens that we'll be holding at the library this summer. If you're looking for something to do or just want to get out of the heat for awhile, come on down to the library. Come to a free program or just come and play in the newly renovated Children's Room, play video games in the Teen Scene, or sit and read a book in the AC.
And, of course, we're kicking off the summer in style with our HUGE SUMMER READING BLASTOFF!!!
Saturday, June 1 from 10am-1pm we will have all kinds of fun things at the library and the Carnegie Center: glow-in-the-dark rocks, rocket building, a 1960s moon launch party, and more! Stop by to sign up for the Summer Reading Program, pick up your Cultural Pass, and check out some books!
We hope to see you at the library this summer!
— Abby Johnson, Collection Development Leader