This psychological thriller will keep you at the edge of your seat.
The Wom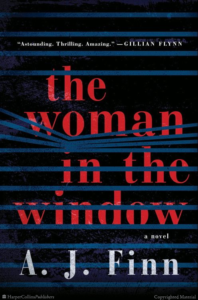 an in the Window (2018; 427 pages) by A.J. Finn has been getting a lot of buzz and it debuted at #1 on the New York Times Best Seller list. I'm here to tell you that it lives up to the hype; put yourself on the hold list for it today!
Anna Fox lives alone and never leaves her house. She's agoraphobic and has terrible panic attacks if she steps foot outside her door due to a trauma in her past. As the reader gets to know Anna and gradually finds out about the trauma that's left her housebound, we also learn that Anna drinks a lot. She's on a lot of medication that she doesn't always take correctly. And, desperate for human contact, she keeps tabs on her neighbors by spying on them through their windows. One night Anna witnesses a terrible crime, but when the police come to investigate, Anna (and the reader) will have to ask: did it really happen? Or did she just think she saw it?
This taut psychological thriller will keep you at the edge of your seat. There are so many twists and turns in the plot and the author reveals bits and pieces of Anna's past at just the right pace to keep you turning the pages. You'll be dying to know what happens next.
There's a holds list for this popular title, but we just ordered more copies, so put yourself on the list and we should have a copy for you soon.
Readalikes:
You may enjoy this book if you enjoyed:
— Abby Johnson, Collection Development Leader