Summer Reading is coming right up and you may be wondering what books to get for your school-age readers. Your librarians are happy to help! You can always ask us for suggestions – we love to talk about books. Here are a few of my recent favorites for school age readers: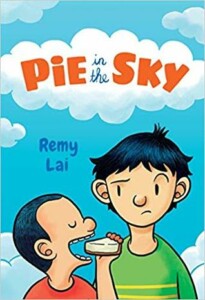 Pie in the Sky by Remy Lai (2019; 385 pages). This is a great read for fans of Diary of a Wimpy Kid or Big Nate because it's funny and has cartoon illustrations, but it's also a story with a lot of heart. Jingwen has just arrived in Australia with his mom and little brother and things are terrible. He doesn't speak English very well (except for the word BOOGER which he practices all the time because his brother is, well, a giant booger), he has to repeat 6th grade, and worst of all his father is not with them. He passed away in a car accident before they moved. To cope, Jingwen starts baking elaborate cakes – cakes that would have been on the menu of his father's fancy bakery Pie in the Sky. It's something that makes him feel good about himself and more connected to his father. The problem? Jingwen and his brother are NOT ALLOWED to turn on the oven while their mom's at work. So their afternoon baking exploits are top secret. How long until they get caught? How long can they keep eating an entire cake every night? How long until Jingwen starts to feel like their new home is home?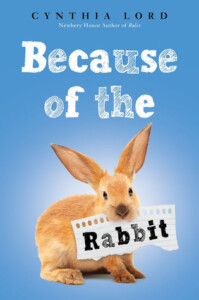 Because of the Rabbit by Cynthia Lord (2019; 192 pages). This is a great book for all our animal lovers out there. Emma is super excited to start 5th grade public school for the first time after being homeschooled her whole life. Her main goal? Make a best friend. But it turns out that by 5th grade most kids already have their friend groups picked. There is one kid in class that she has a lot in common with – Jack shares her love of animals and ticks a lot of the boxes on her list of things a best friend should be. But Jack has some special needs and, while the kids in their class are mostly kind to him, no one really hangs out with Jack outside of school. If Emma picks him for her best friend, is she shutting down the chance to make other friends? If she doesn't want to be his friend, is she really staying true to herself? This is a sweet friendship story with a lot of heart and Emma is a great character to get to know. I was rooting for her all the way through.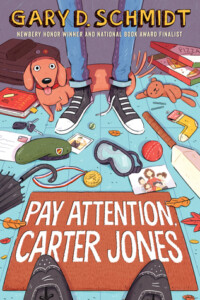 Pay Attention, Carter Jones by Gary D. Schmidt (2019; 217 pages). This is a fun story with a lot of humor and heart, great for readers who like Jack Gantos or Andrew Clements. It's the first day of school, raining cats and dogs, and everything is going wrong when the butler shows up. Turns out that when Carter's grandfather passed away, he provided for his butler to join Carter's family to help out, especially nice since Carter's dad is serving overseas and things have been a little overwhelming. Carter's not at all sure about having a butler, especially when he enforces rules like you must walk  the dog every day even when it's raining and when he starts a cricket team at Carter's school. But little by little, Carter just may come to depend on the butler. And it just might be just what Carter needs when something really difficult happens.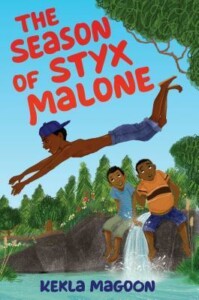 The Season of Styx Malone by Kekla Magoon (2018; 297 pages). When Caleb and his brother Bobby Gene trade their baby sister for a bag of fireworks, they never thought they'd get away with it. And they kind of don't, but at the end of the day their sister is home safe and sound and the boys still have a bag of fireworks… enter Styx Malone. Styx is a charismatic boy with big dreams and big talk – soon he has Caleb completely under his sway with a plan to purchase a motor scooter to take them far away from their small Indiana town. Caleb has always known he was destined for greater things. But is their new friend Styx all talk? And is he leading them towards nothing but trouble? This is a great summer story, perfect for fans of Christopher Paul Curtis with characters that you'll never forget.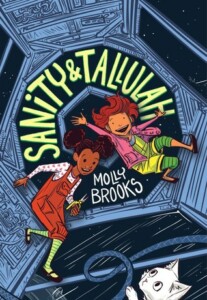 Sanity & Talullah by Molly Brooks (2018; 225 pages). Sanity and Tallulah are two best friends living their best life aboard a space station. But when Sanity's science project escapes (a bioengineered three-headed kitten named Princess Sparkle Destroyer of Worlds) and starts wreaking havoc on their ship, can the girls get things under control before the entire ship is destroyed? This is a fun graphic novel for readers who like fast-paced adventure stories and science. Hand this one to fans of the Hilo series.
Check out these great reads for the school-aged kids in your life. I'd suggest all of them for kids in grades 4-7. If you need more (or different) ideas, please ask a friendly librarian – we are happy to help. And don't forget to sign up for Summer Reading! Preregistration is open NOW and you can start reading for prizes on June 1!
— Abby Johnson, Collection Development Leader