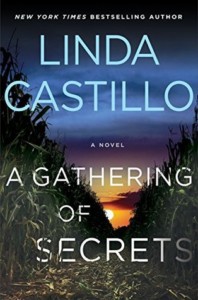 A Gathering of Secrets by Linda Castillo (2018; 308 pages).
Also available on audiobook CD. Series: Kate Burkholder #10
I read this series and have loved it from the beginning. The setting is in a fictional town called Painters Mill, which is in Ohio, but it is definitely based on real towns in this area. The population of the town largely consists of Amish folks and our main character is the Chief of Police, who was raised Amish but left the fold as a young woman. After becoming a police officer outside her hometown, she has returned to her roots and she was chosen to keep the peace between the Amish and English people in the community.
This is book is the tenth one in the Kate Burkholder series; however they do not need to be read in a specific order. Each book encompasses a different mystery, but there are some character developments you may miss if you read this book before the others. Ultimately it is your decision, but I would highly suggest starting from the beginning! I feel like this lets you get more involved in the story and makes falling in love with the characters that much easier.
All of the other mysteries have a surprising but somewhat similar ending. The events in this book also culminate in a surprise but it is out of the norm for how these books have been written thus far. This is not to say the book was not as good, it just felt different. Difficult decisions arise in Kate's personal life which makes the book feel more serious for her. Overall, I really enjoyed this book and I think it is a wonderful addition to the series.
Readalikes:
My Sister's Grave by Robert Dugoni (2014; 410 pages; Tracy Crosswhite series). Tracy Crosswhite is a strong female police officer who reminds me a lot of Kate Burkholder.
A Killing in the Hills by Julia Keller (2012; 371 pages; Bell Elkins series). The small-town setting and flawed, prickly heroine of this series might be a good match for the Kate Burkholder books.
Final Jeopardy by Linda A. Fairstein (1996; 400 pages; Alexandra Cooper series). This series features a female detective fighting crime, often against women, and a richly detailed setting.
— Meghan V., Public Services Librarian